Let me just start off with last weeks Nevada/Fresno St. game. If Fresno was able to kick a field goal at the end, I would have predicted that game perfectly. Gosh I want that one back so bad. It stings. I was making a good comeback on Brandon but I only ended up beating him by one this week. He was 16-5 (0-1) and I finished 17-4 (3-1). My best upset week and I still gain almost no ground on Brandon. Goodness. The unanimous helmet sticker this week goes to Marcus Lattimore the freshman phenom from South Carolina. Marcus ran the ball 40 times on the Florida D, gaining 212 yards and 3 touchdowns. He also caught two passes for 31 yards. Oh yeah and they were playing in the swamp. SC punched their ticket to the SEC title game with the win. Could they possibly beat Auburn? Wouldn't that be amazing?
We have two intriguing ACC match ups this week. NCSU and UNC get the NT25 pick because of the ACC title implications. It goes hand in hand with the FSU and UMD game. So keep your eye out for those game breakdowns and what the possibilities are. Also, I'd like to point out a NT25 honorable mention of Florida and Appalachian State. The only reason I'm giving it the honorable mention is because I believe ASU will get the upset. With that said, that game isn't an official pick this week. Also, the Big Ten title hunt is intriguing as well so Ohio State and Iowa get the GOW and deservedly so. Don't forget to check out Brandon's blog at
http://thebiznizfiles.blogspot.com/
. Alright on with the picks.
Thursday November 18th 2010
#11 Alabama Crimson Tide 8-2 (5-2) vs Georgia State Panthers 6-4 7:30 PM ET
What do Georgia State and another team in the SEC have in common and who is that team? (Drum Roll) Why, it's Ole Miss. Both the Panthers and Rebels lost to Jacksonville State in overtime this season. And after this week they'll both have lost to the Tide. Alabama, as mandated by the SEC (or so it seems) plays their one D-IAA school of the season. So basically they have another bye before the Iron Bowl next week. Time to oil out any rust and work out any kinks before Cam Newton comes to town. Bama 56 GSU 3.
Brandon: Bama 55 GSU 10.
Friday November 19th 2010
#4 Boise State Broncos 9-0 (5-0) vs Fresno State Bulldogs 6-3 (4-2) 9:30 PM ET
If Fresno could have pulled off the upset over Nevada last week I would probably give them a bit of a motivation factor coming on to the smurf turf this week. The Bulldogs are a good team. They always seem to have 7-9 wins a season with a couple close losses to AQ schools. I like them to put together a few solid drives and perhaps make a game out of this. But I still see Boise State getting the victory by at most seventeen points. They have three games left including this one, but making it to the BCS title game isn't really in their hands. Just keep winning Mr. Peterson. And that he will. BSU 38 FSU 21.
Brandon: BSU 48 FSU 34.
Saturday November 20th 2010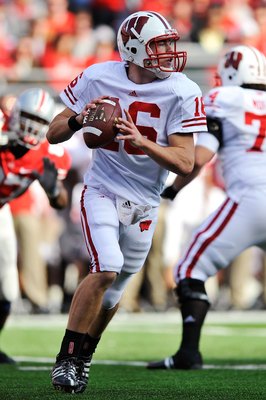 Scott Tolzein has the
Rose Bowl in his foresight
 #7 Wisconsin Badgers 9-1 (5-1) @ Michigan Wolverines 7-3 (3-3) 12 PM ET
Not sure I can remember the last time a football team at any level put up 83 points. That was impressive, even if it was Indiana they were playing. I'm sure that one was fun for the Badger fans and I'm also sure that if any Badger fan attended that game not knowing the school fight song, they do now singing it thirteen times. Michigan had a rough time putting Purdue away last week. It seems like they got caught up in the Denard Robinson hype early on in the season and can't quite find their swagger again. Three straight conference losses and going down to the wire with two of the conferences worst. They'll need that swagger back for this week. But I'm not sure they get it all back. The Badgers are led by Scott Tolzien and Jonathan Clay and I have no reason to suspect they have a let down game when there's a potential trip to the Rose Bowl on the line. I like the Badgers here. Wisc. 34 Mich 23. Brandon: Wisc. 32 Mich. 24.

#10 Oklahoma State Cowboys 9-1 (5-1) @ Kansas Jayhawks 3-7 (1-5) 12 PM ET
Although Kansas is flat out terrible, they only lost to Nebraska by seventeen last week. Their defense held NU to twenty points. Oh but their offense scored three. Yeah, they suck. They saved the best of the conference for the end of their schedule. And they will end the season 3-9. OSU gets a huge victory here. They host the Big XII South championship when the Sooners come to Stillwater next week (If OU doesn't lose on the road @ Baylor). OSU 48 KU 10.
Brandon: OSU 56 KU 17.
#12 Michigan State Spartans 9-1 (5-1) vs Purdue Boilermakers 4-6 (2-4) 12 PM ET
Michigan State finds themselves at the bottom of the three way tie in the Big Ten since the BCS standings is the tie breaker. They need style points in their last two games against Purdue and Penn State if they want to jump past Wisconsin. I say style points because the Boilermakers aren't very good and everyone is guaranteeing a victory for Sparty. Yeah I'm not showing this one being close at all. Michigan State do very good. Pur-don't. MSU 38 Pur. 19.
Brandon: MSU 35 Purdue 19.

Russell Wilson is poised
enough to lead the
Wolfpack to the ACC title.

NON TOP-25 GAME
North Carolina State Wolfpack 7-3 (4-2) @ North Carolina Tar Heels 6-4 (3-3) 12 PM ET
Huge ACC title game possibilities in this game as I state later on in my Florida State/Maryland pick. The Wolfpack will be rooting for the Terps to win that game. They play them next week too. Very dramatic two weeks in the ACC Atlantic division. If the Heels pull the upset here than NCSU will be tied with the loser of the FSU UMD game. That's why they are rooting for the Terps to win this week so that game turns into the Coastal title game. If UNC and FSU win ... FSU plays VT for the title game. All season I've been hopeful to see the Tar Heels have a good season, but they've been just so anemic and unpredictable. The Wolfpack has a lot of options on offense. Both the running and passing game has bunches of talent. Thirteen players have caught at least four passes and eleven people have caught TD passes. Russell Wilson feels very comfortable taking the snaps. I think that talent level will be the difference against the Tar Heels. UNC has had too much drama this season it's just caused too many problems on the field. I think NCSU will want this one a bit more than they will. NCSU 34 UNC 26. Brandon: UNC 31 NCSU 28
#17 South Carolina Gamecocks 7-3 (5-3) vs Troy Trojans 5-4 (4-2) 12:21 PM ET
In week two of the season Troy hung around with Oklahoma State and lost 41-38. They lost to UAB by one the very next week. I swear every season I hear about Troy doing something on the national radar at least once. I'd say they're the most prestigious Sun Belt team. Okay, I've respected them enough ... you have to when they make it to the picks once a season. South Carolina is rolling right now. Their SEC games are over and they will be in the SEC title game against Auburn. Boise State fans are going to be Gamecock fans for a few weeks. Not sure if they're paying attention to this game though. Who knows, anything can happen. SC 44 Troy 14.
Brandon: SC 38 Troy 18.
#5 LSU Tigers 9-1 (5-1) vs Mississippi Rebels 4-6 (1-5) 3:30 PM ET
What can the Mad Hatter do when the SEC title game has already been decided? Even if Auburn loses to Bama next week (on a Friday ... weird) it's still Tigers and Gamecocks for the title. Yeah, tough to coach a team when you have neither conference title nor national title to preach to them. Oh well. Regardless, this game won't be close. The Rebels have proven they can't compete in the conference this season. LSU 31 Ole Miss 17.
Brandon: LSU 35 Ole Miss 20.
#6 Stanford Cardinal 9-1 (6-1) @ California Golden Bears 5-5 (3-4) 3:30 PM ET
I'd like to say this will be a blowout but I'm not sure if Cal's near upset over Oregon was a fluke or not. However, the Ducks are the Pac-10 champs anyway. That was decided weeks ago and I'm stickin to it. Anyway, with that out of Stanford's control you know coach Harbaugh is still plugging that in the locker room. Either way, It's BCS title game or Rose Bowl. That's still something to play for. I'm calling fluke last week for Cal. Stanford wins comfortably. Stan. 28 Cal 13.
Brandon: Stan. 23 Cal 21.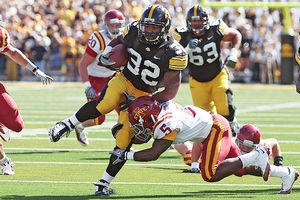 With the Rose Bowl now out of sight, Adam Robinson
and the Hawkeyes can still make things interesting in the
Big Ten standings.

GAME OF THE WEEK
#9 Ohio State Buckeyes 9-1 (5-1) @ #20 Iowa Hawkeyes 7-3 (4-2) 3:30 PM ET
The Big Ten is very interesting right now. Three teams tied for first and all Iowa can do is make that two teams by beating Ohio State this week. They can hope MSU and Wisconsin fall so they can have a shot for the Rose Bowl, but I'm not sure that happens. With that said, I don't think they just roll over in this one. I do think the NW loss was a fluke. (I picked that one by the way). College football is just so unpredictable sometimes and that's why I'm calling upset here. I know OSU has Terrelle Pryor, but the Hawkeyes are looking to bounce back from last week, they're at home and Ricky Stanzi is a great quarterback. I'm not saying they're going to shut down Pryor, but I do like Iowa in a close game. The Buckeyes have more to lose and Iowa knows that. They will jump off of their backs and punch the big guy right in the mouth. Iowa 31 OSU 27.
Brandon: OSU 26 Iowa 21.
#16 Virginia Tech Hokies 8-2 (6-0) @ #24 Miami (FL) Hurricanes 7-3 (5-2) 3:30 PM ET
Miami has been jumping in and out of the bottom of the Top 25 all season long. Virginia Tech is on an eight game win streak and a win this week punches their ticket to the ACC title game. The 'Canes may try to get the crowd into it, but I don't see that being an advantage. No one in this conference is stopping the Hokies. The loss to JMU was a major, major fluke. VT is the reason Boise has jumped TCU. The Hokies will play for the ACC title. VT 27 The U 16.
Brandon: VT 31 Miami 23.
#18 Nevada Wolfpack 9-1 (4-1) vs New Mexico State Aggies 2-8 (1-5) 4:05 PM ET
The Wolfpack almost suffered their second loss of the season last week on the road to Fresno State. Only one more game til they host Boise State ... the game they've wanted all year. I don't see them slipping up here. NMSU is one of the reasons some are saying the WAC will be the new Sun Belt starting in 2012. Nevada won't have any troubles here. UNR 41 NMSU 17.
Brandon: UNR 48 NMSU 13.
#13 Arkansas Razorbacks 8-2 (4-2) @ #21 Mississippi State Bulldogs 7-3 (3-3) 7 PM ET
It's nice to see the Bulldogs on the national radar. It's been awhile. Too bad South Carolina has the SEC Cinderella of the season. MSU would love to pull this upset at home but I'm not quite sure I see that happening. The Razorbacks are just a little too talented and powerful. I do like to see a battle though, but it won't be enough of one for the Bulldogs to get win number eight. Ark 28 MSU 23.
Brandon: Ark 21 MSU 21.
#15 Missouri Tigers 8-2 (4-2) @ Iowa State Cyclones 5-6 (3-4) 7 PM ET
This is Iowa State's last chance to become bowl eligible. They've not fared very well against ranked opponents this season with the Nebraska game being the exception. Don't know where that came from. How do you almost beat Nebraska and then get destroyed by Colorado? Really? Yeah there's no hope for this team on senior day. The Tigers will plow through them all day. Mizzou 45 ISU 20.
Brandon: Mizzou 37 ISU 27.

Roy Helu Jr. and Taylor Martinez
can lead NU to a Big XII title.
#8 Nebraska Cornhuskers 9-1 (5-1) @ #19 Texas A&M Aggies 7-3 (4-2) 8 PM ET
The Huskers have nearly all but punched their ticket to the Big XII title game. They have two games left and this one won't exactly be easy. The Aggies are on a roll right now with back to back wins over Oklahoma and Baylor and they don't want to let anything up on senior day. Bo Pelini's team has struggled since the Mizzou game. Despite two wins, one was in OT to Iowa State and perhaps the Cyclones don't fake that PAT, it could have continued. Also, the Huskers only put up twenty points on Kansas. Not sure how to read that since they only bead South Dakota State earlier in the year 17-3, then thumped Kansas. It seems they play to the caliber of their opponents (hence the loss to Texas). Having said all of that, I like NU to win this one. Their a bit more talented and have more than one play maker. NU 27 TAMU 24. Brandon: NU 24 TAMU 23.
#14 Oklahoma Sooners 8-2 (4-2) @ Baylor Bears 7-4 (4-3) 8 PM ET
The Bears are struggling right now. Yes they made it to bowl eligibility by a game, and that seems to be all they wanted. They got blown out by Oklahoma State and lost by twelve at home to Texas A&M. It's like as soon as they became bowl eligible and ranked for the first time since 1994 they didn't want anything more than that. They had a shot to win the Big XII South. What happened? Based on everything I've said, Baylor has no momentum right now. OU is still alive in the conference title hunt. This game will be decided on motivation. Even if it wasn't, I'd still pick the Sooners. OU 31 BU 17.
Brandon: OU 36 BU 24.

Danny O'Brien knows the ACC title is close. He
and the Terrapins will have to get past Florida
State first.
 #25 Florida State Seminoles 7-3 (5-2) @ Maryland Terrapins 7-3 (4-2) 8 PM ET
The Seminoles cannot afford to lose this game. It's their final conference game before the rivalry with the Gators. These Terrapins and North Carolina State are right behind them in the ACC Atlantic standings. Beating UMD is a must. NCSU plays at UNC this week then at UMD next week. Pretend the Terps pull this one off and lost to NCSU next week, all three schools are tied 5-3 in conference play but the Wolfpack get the nod having beaten both the others. Some crazy stuff. So FSU needs a win here and hopes for NCSU to lose at least one of the last two (which are both on the road). Now that I've broken that down ... It's time to start my pick. Christian Ponder is having a highly disappointing season that has been hampered a bit by injury but should be good to go. The Terps haven't lost at home, but their home schedule has been weak sauce. I'm not a fan of Ponder. He hasn't been anything but hype really. I like the Terps to win this one. Both teams are pretty even, but due to me thinking FSU and their "amazing" quarterback being overrated this year and this game being at home for the Terps, they have the edge. UMD 28 FSU 23. Brandon: UMD 30 FSU 28.
Brady Hoke has put SDSU on the map
in the Mountain West. But can he lead
them to a victory over the Utes?
#23 Utah Utes 8-2 (5-1) @ San Diego State Aztecs 7-3 (4-2) 10 PM ET
The Utes are having nothing but trouble right now. Coach Kyle Whittingham has said each position is up for review. Which means ... everyone pretty much sucks right now. Jordan Wynn has taken most of the heat for the struggles and I wouldn't be surprised to see Terrence Cain play in this one. The Aztecs have a shot for second in the MWC ... in fact if they win, there will be a three way tie between SDSU, Utah and BYU. Crazy. SDSU gave TCU all they could handle last week losing 40-35. If you combine all three losses for the Aztecs, they were by a combined amount of 11 points. All three on the road. With Utah being in shambles right now after their two straight embarrassing performances at home to TCU and on the road at Notre Dame, I'm not sure if they have enough to recover and beat this Aztec team who has fire in their eyes. They know the Utes are down and will be taking full advantage of that. I'm calling the upset here. SDSU 31 Utah 23. Brandon: SDSU 34 Utah 32.