I fared pretty well against Brandon for the last week of the season. I was 9-1 (1-0) and he was 7-3 (0-1). That puts the final standings at, Me 206-70 (9-26) and Brandon at 217-54 (8-16). My final Helmet Sticker goes to Brock Osweiler of Arizona State. He was 22/49 for 267 yards and 1 TD. He ran the ball 19 times for 56 yards and definitely picked up the slack for Steven Threet being out as ASU won a thriller in double OT over bitter arch rival Arizona.
Now that the season is over the post season match ups have been placed. Before I start with my bowl game picks I have taken the time to create my own playoff system for college football.
This is a 28 team tournament. The 11 conference champions get auto bids and then there are 17 at large bids. There could be something like every ranked team in the top something get in that way there aren't more at large bids than auto bids. (A 16 team tourny with 11 auto bids and 5 at large would be more realistic because the big time schools are scared of losing to the small schools). I've ranked them from 1 to 28. The top four seeds get byes in the first round and home games for their first game in the second round. After the first round, every game (except the top four seeds) will be at an neutral site ie.. a current bowl location. Sure there would be flaws with scheduling around Christmas (although I don't think that would matter). Still, it would only be four or five weeks if they had games on Thursday, Friday and Saturday in the first round. Click the following link to check out what this years bracket would look like.
This Year/My Bracket
http://www.bracketmaker.com/tmenu.cfm?tid=381769
Check out some of those match ups. An Auburn/Bama rematch in the second round, Boise/WVU rematch from the opening game of the year in the first round and then Boise paired up with Oklahoma in the second round. Some sweet, sweet match ups. Screw the money the BCS brings in, this would be epic every season. Feel free to print off your own, white out my picks and make your own to see who your champion would be.
Now for the bowl picks. It all starts December 18th with the 5th annual New Mexico bowl.
Saturday December 18th 2010
New Mexico Bowl: BYU Cougars 6-6 (5-3) vs UTEP Miners 6-6 (3-5) 2 PM ET ESPN
(University Stadium - Albuquerque, NM)
Both of these schools enter the New Mexico bowl with the same record. BYU started the season 1-4 but finished 5-2 and were one point away from being 7-5 and in the Las Vegas Bowl. The Utah Utes blocked a last second field goal to beat the Cougars 17-16 in a game where BYU led 13-0 at the end of the third quarter. They have transformed themselves from the first half of the season. True Freshman QB Jake Heaps has shown so much promise late in this season and I believe he will be a huge play maker for the Cougars at the Y. Perhaps the next All-American QB. He has many weapons and will be looking to stretch the field out with a trio of RB's and a handful of receivers to throw too. JJ Di Luigi is his main man out of the back field with Luke Ashworth and Cody Hoffman his two biggest play making WR's this season. The Miners have a good quarterback of their own in Trevor Vittatoe. His main target is Kris Adams who's caught 44 passes this season. Joseph Banyard has averaged 5.7 yards per carry out of the back field this season. The difference for me in this one is the amount of play makers and talent. BYU has the edge in that one I think. Even though Vittatoe is a senior (and nursing an injured ankle) I still see the Cougars winning comfortably. This defense has been impressive since D-Coordinator Jaime Hill was fired and Head Coach Bronco Mendenhall has taken over. I like BYU to take this one comfortably.
BYU 37 UTEP 17.
Brandon: BYU 35 UTEP 20.
uDrove Humanitarian Bowl: Fresno State Bulldogs 8-4 (5-3) vs Northern Illinois Huskies 10-3 (8-0) 5:30 PM ET ESPN
(Bronco Stadium - Boise, ID)
Northern Illinois has had a fantastic season up to this point. The best in school history. Yet that fell short in the loss to Miami (OH) in the MAC championship game. Regardless, they still can boast a 10-3 record to Boise for the Humanitarian Bowl versus Fresno State. Chandler Harnish has 2230 yards through the air with 20 TD's and only 5 INT's. He has a QB Rating of 156.1. Fantastic. Chad Spann is his main man on the ground with 243 carries for 1293 yards and 20 TD's of his own. What a talented offense NIU has. There are three WR's for the Huskies who all have over 400 receiving yards (there's one with 395). Fresno State ended their regular season with a victory over an AQ. They beat Illinois 25-23. That's their second victory over an AQ opponent this season. They beat Cincinnati 28-14 in the season opener. The Bulldogs are led by QB Ryan Colburn who has a rating of 143.7. They have a thousand yard rusher in Robbie Rouse too. Both of these teams are evenly matched and that should prove for a greatly fought match up. Fresno is playing at a stadium they've frequented for some time and they could have the advantage in the stands with their fans. NIU's fans do have to travel a long way to see them play so it could serve as an underdog advantage even though they have two more wins than the Bulldogs. I don't know if NIU will be in "let down" mode after the shocking loss to Miami (OH). FSU has played on the smurf turf often and that is a difference maker. People say it's odd to play there. I like NIU, but I'm calling upset on this one. Fresno takes the OT or 2OT victory.
FSU 36 NIU 33. Brandon: NIU 32 FSU 27.
R+L Carriers New Orleans Bowl: Troy Trojans 7-5 (6-2) vs Ohio Bobcats 8-4 (6-2) 9 PM ET ESPN
(Louisiana Superdome - New Orleans, LA)
The Troy Trojans always seem to be atop the Sun Belt standings. They were 6-2 in conference play and in the second game of the season they lost @ Oklahoma State 41-38. That looked pretty impressive til they get blown out by FIU and Soth Carolina in back to back weeks. Still, they have a quarterback in Corey Robinson who has 3320 yards this season and a rating of 133.5. He has a balanced plethora of WR's to throw the ball to with Jerrel Jernigan being his favorite. 13 of the 16 players who have caught passes from him this season average at least 10.2 yards per catch. That's pretty impressive. Ohio started the season 1-3 with close losses to Toledo and Marshall and a blowout loss to Ohio State. Once they entered league play, they got down to business. Their seven game winning streak halted with their 28-6 loss @ Kent State. They don't really have one play maker who does everything for them. They like to run the ball with their QB Boo Jackson but he only averages 2.7 yards per carry and he has 15 passing TD's with 16 INT's. Vince Davidson and Phil Bates are the other two key guys in the running game. Even though this is the Sun Belt and the MAC and many would argue the competition level is pretty even, I see Troy winning pretty comfortably. The talent level is quite a bit better than the Bobcats.
Troy 27 Ohio 16. Brandon: Ohio 28 Troy 21.
Tuesday December 21st 2010
Beef 'O'Bradys St. Petersburg Bowl: Louisville Cardinals 6-6 (3-4) vs Southern Miss Golden Eagles 8-4 (5-3) 8 PM ET ESPN
(Tropicana Field - St. Petersburg, FL)
The Southern Miss Golden Eagles are two points away from being 10-2 with wins over Kansas and UCF. They lost to ECU 44-43 and 50-49 to UAB in OT both games being at home. This team can score a lot of points and is led by QB Austin Davis who is 102 yards shy of 3000 on the year. Also Kendrick Hardy and Desmond Johnson are alongside Davis in the running game. Davis has 28 total touchdowns this season Kelvin Bolden and Johdrick Morris both have over 650 receiving yards and provide a special tandem in the passing game. This team is better than their record shows. This Louisville team doesn't really impress me (nor does any one in the Big East). They only beat Eastern Kentucky and Arkansas State by 10 points. I know that's two scores, but a BCS school should be blowing out teams from D-IAA and the Sun Belt. They got blown out by other conference foes and did some blowing out of their own within the conference. The Big East is just a horrible excuse for this garbage BCS system. Their main man is running back Bilal Powell. He has 1330 yards on the year with 10 TD's and that includes an 85 yard scamper for a touchdown this season. He will be a solid NFL player. QB Adam Froman has a rating of 136.5 but he has thrown the ball seven times less than Powell has ran it. I don't think they will have enough to match this Southern Miss offensive attack. Powell will have a big game and Froman may have a TD or two. But I don't think the Cards win this one. Although I do give them a pity TD late in the game to make it look closer than it really was.
Southern Miss 34 Louisville 24. Brandon: So. Miss. 34 Louisville 28.
Wednesday December 22nd 2010
MAACO Las Vegas Bowl: #11 Boise State Broncos 11-1 (7-1) vs #19 Utah Utes 10-2 (7-1) 8 PM ET ESPN
(Sam Boyd Stadium - Las Vegas, NV)
What a beautiful match up we have taking place in Sin City. Utah was once #5 in the BCS standings this year. They've struggled late in the year and can thank a lucky hail mary in the SDSU game and blown call in the BYU game for them being 10-2 and not 8-4 right now. Also, their starting quarterback Jordan Wynn is requiring shoulder surgery so backup SR Terrence Cain will get the go against the Broncos. The Utes main play maker is Shaky Smithson who can do anything he wants to when he gets the ball. Devonte Christopher is a great play maker as well, and the Utes tandem at RB Eddie Wide and Matt Asiata have seen success this season. The Broncos, some may say, could very well be in "let down" mode after their tough loss to Nevada brought them to Vegas rather than their third BCS bowl since 2006. The Utes are leaving the Mountain West and headed to the Pac-10 and Boise State is their replacement in the MWC. A loss for the Utes here could open up much discussion. Kellen Moore is a Heisman finalist and can take over any game at any time. If the ball was in his hands in the Nevada game, they wouldn't be playing in the Vegas Bowl. The Utes are still trying to figure out who they are, and with an inexperienced senior QB taking the snaps, I'm not sure if they have enough to put up a fight against the Broncos. Boise lost to a fantastic Nevada team and coach Chris Peterson will not let his team hang their heads. They've been trying to prove they belong for some time and this will be the third consecutive year where they don't get an AQ school in a bowl game ... and last year was in a BCS bowl when they beat TCU. They're still mad and will blow the Utes out. I don't trust Terrence Cain to lead this Utah team to victory. Kellen Moore takes that battle easily.
Boise State 47 Utah 24. Brandon: Boise State 41 Utah 27.
Thursday December 23rd 2010
San Diego County CU Poinsettia Bowl: San Diego State Aztecs 8-4 (5-3) vs Navy Midshipmen 9-3 8 PM ET ESPN
(Qualcomm Stadium - San Diego, CA)
The Aztecs don't have to travel for the post season. They will be facing the Navy Midshipmen in their home stadium for the Poinsettia Bowl. Some may call that an unfair advantage but it happens I guess. Just one of the great things about not having a playoff system. Brady Hoke has this SDSU program headed in the right direction and many are hoping he doesn't bolt for a Big Ten coaching job. Ryan Lindley is a great team leader and will be looking for one last win in his home team stadium. He will have to have a great game through the air. Navy headlines a phenomenal running game led by quarterback Ricky Dobbs. Dobbs has only thrown the ball 124 times this season. Navy has five players who have scored at least 3 rushing touchdowns this season so stopping Dobbs shouldn't necessarily have to be their game plan. The Aztecs must stop the option attack as a whole to stop this offense who just eats up the clock. That can be a red flag. Because of that aspect, I like this game to go very quickly and be close. Having said all that about Navy, I like San Diego State to take this one. They are more interchangeable on offense and I'd trust Lindley to lead his team to victory more than Dobbs, solely because of the passing games of each team. Navy's running game can't be trusted in the two minute scheme. Aztecs take a tough battle.
SDSU 28 Navy 26.
Brandon: SDSU 30 Navy 27.
Friday December 24th 2010
Sheraton Hawaii Bowl: #24 Hawaii Warriors 10-3 (7-1) vs Tulsa Golden Hurricane 9-3 (6-2) 8 PM ET ESPN
(Aloha Stadium - Honolulu, HI)
This game is actually a really good match up that will probably get overlooked because of the marquee non BCS bowls ie.. Vegas, Capital One etc.. There is a great quarterback match up in this game. Greg Kinne of Tulsa has 3307 yards and 28 passing TD's with a rating of 141.08. He can also run the ball. He's the Golden Hurricane's leading rusher with 557 yards on 145 carries with seven TD's on the ground. Tulsa also has three other running backs with over 330 yards. Kinne is the main man, but he does have a few security valves surrounding him. This team is dangerous. The Warriors have been a big surprise this year. They seem to be on the right track back to their BCS busting days in 2008 (does it count as a bust if they get destroyed?). Bryant Moniz has 4629 yards through the air with 36 touchdowns. He has two receivers who've accounted for almost 3000 of those yards. Greg Salas has 106 catches for 1675 yards and 12 TD's and Kealoha Pilares has 88 catches for 1306 yards and 15 touchdowns. WOW. Don't forget about their running game. Alex Green has 1168 yards this season his longest run being 78 yards and he has 17 rushing touchdowns. I'm shocked that they have three losses with numbers like that. It's their defense that struggles for them. With both teams being so evenly matched, I like this one to be a shootout. Look for close to a hundred points to be scored in this game between these two teams. I'm picking Hawaii because they're on their home field. That's kind of an unfair advantage but that's how all of the BCS is so it fits right in with the rest of NCAA football. The Warriors take the close shootout.
UH 51 Tulsa 45. Brandon: UH 42 Tulsa 38.
Sunday December 26th 2010
Little Caesars Pizza Bowl: Toledo Rockets 8-4 (7-1) vs FIU Panthers 6-6 (6-2) 8:30 PM ET ESPN
(Ford Field - Detroit, MI)
This is one bowl game that almost nobody will probably care to watch or keep track of. I'm betting only the fans of the schools will be interested and glad that their school is playing on ESPN when not playing a national powerhouse in a guaranteed blowout. FIU actually competed against two AQ teams this year losing to Rutgers 19-14 in the season opener and then the following week @ Texas A&M 27-20. Still, it was their conference play that got them to this bowl game. (0-4 in non conference games). The Panthers are led by a tandem at running back. Darriet Perry and Darrian Mallary share the load each with nearly 700 yards this season. Although Perry has 14 TD's to Mallary's 2. Their passing game is alright but can't be trusted. QB Wesley Carroll has 2483 yards with 15 TD's but 13 INT's YIKES. Toledo has a victory over an AQ. They beat Purdue 31-20 on the road in late September. Two quarterbacks have seen significant playing time for the Rockets this season. Austin Dantin and Terrance Owens. Owens has the better rating of 155.1 to Dantins 124.7. That is due to the TD to INT ratio. Dantin is 7/8 while Owens is 12/2. He should be the man taking the snaps. Numbers like that means ball control which means more carries for Adonis Thomas. He needs 95 yards for 1000 on the season. He has 6 TD's. Only Austin Dantin has more rushing touchdowns than he does. Eric Page is pretty much the only receiver the Rockets throw to. He has 94 catches on 1081 yards and 8 touchdowns. Adonis Thomas is the closest to him with only 29 catches out of the back field. Both teams look pretty even but I'm going with Toledo here. It seems they just have a bit more talent and ability to make plays. Don't expect a lot of points scored, but Toledo will get the victory.
Toledo 23 FIU 13. Brandon: Toledo 37 FIU 28.
Monday December 27th 2010
AdvoCare v100 Independence Bowl: Air Force Falcons 8-4 (5-3) vs Georgia Tech Yellow Jackets 6-6 (4-4) 5 PM ET ESPN
(Independence Stadium - Shreveport, LA)
Boy would it be nice to have Duke on the conference schedule every year. Especially when they're your sixth win to get you into a bowl game. Ridiculous. The Yellow Jackets have struggled all season. The only win they have that's respectable is North Carolina ... but I'd put an asterisk there since UNC has had so much drama this season with players being suspended etc ... Air Force had a lot to look forward to early in the season. They started 5-1 with their only loss being by three on the road in Norman against Oklahoma. Then they began a three game losing streak with a two point loss to San Diego State and it ended with a five point loss at home to a struggling Utah team. Air Force turned the ball over five times in that game. Included in that losing streak was a 38-7 loss to TCU. That was expected since they destroyed every conference opponent. AFA is 10 points away from being 11-1 right now. This match up with Georgia Tech will be interesting to see. It should also be a quick one. Both schools run the ball primarily. Their play calling is roughly the same. Both teams have ran the ball almost 700 times (AFA-699, GT 696) and thrown ball under 160 (AFA-145, GT-154). The difference in this one might be which offense is on the field last and who has less turnovers. Air Force's passing game is just a bit more effective than Georgia Tech's. GT averages 6.82 yards per pass while AFA averages 9.89 per pass. I'm going with the Falcons. They've been a fantastic team this year, they've just lost three really close hard fought games. I like them to be victorious in this one.
AFA 24 GT 20. Brandon: AFA 34 GT 20.
Tuesday December 28th 2010
Champs Sports Bowl: #22 West Virignia Mountaineers 9-3 (5-2) vs North Carolina State Wolfpack 8-4 (5-3) 6:30 PM ET ESPN
(Florida Citrus Bowl - Orlando, FL)
North Carolina State was one game away from playing in the ACC title game. They lost to Maryland by a touchdown in their final season game. They have a fantastic quarterback in Russell Wilson. He can throw picks so that could pose a problem against West Virginia but he has 3288 yards on the year with 26 touchdowns (14 picks). He also runs the ball well so this offense will most likely not be having an negative yardage plays. He shares the running duties with Mustafa Greene. This team is about 60pass 40run. They have a lot of talent on the receiving end. Anyone is capable of making plays. Five receivers average at least 10.8 yards per catch and each of them have at least 3 touchdown catches. The Wolfpack is very capable of moving the ball and scoring points. The Mountaineers have been in and out of the top 25 all season long. They were staring a 5-3 record in the face and got down to business winning their last four games. Still, that wasn't enough to claim the BCS game for the Big East. Geno Smith and Noel Devine are the main men for this offensive squad. Geno has 23 passing touchdowns and only 6 interceptions. He can also run the ball but gets sacked as well only averaging 1.7 yards per carry on 94 carries this season and zero touchdowns. They match NCSU with a plethora of talented receivers. It will be the defense that wins this game. Whichever D can take the ball away more than the other will come out on top. NCSU has a little more talent in the running game. Not taking anything away from Noel Devine but if he gets stopped ... the WVU offense becomes one sided. Having just said that I like the Mountaineers to come out on top. Wilson has thrown a bunch of INT's this season. Although the better numbers, I don't think Wilson is better than Geno Smith. The Mountaineers run the ball a bit more than they throw. That will allow them to control the clock. I believe they win this one.
WVU 28 NCSU 24. Brandon: WVU 27 NCSU 20.
Insight Bowl: #12 Missouri Tigers 10-2 (6-2) vs Iowa Hawkeyes 7-5 (4-4) 10 PM ET ESPN
(Sun Devil Stadium - Tempe, AZ)
Another Big Ten/Big XII bowl match up. I'm not quite sure how to take the Iowa Hawkeyes this season. They were 7-2 at one point and their losses were by 7 and 1 to ranked teams. The next week they destroyed Michigan State 37-6. Then they tank the last three games losing to Northwestern, Ohio State and Minnesota when they still had a shot in the Big Ten title race. Interesting. Their offensive numbers are great too. Ricky Stanzi has a QB rating of 160.5 with 2804 yards, 25 touchdowns and just 4 interceptions. Adam Robinson is 59 yards shy of 1000 on the season. I don't get it. The Missouri Tigers on the other hand have been great. Their two losses were both on the road, the first in Lincoln losing 31-17 then in Lubbock dropping 24-17 to Texas Tech. They finished the season winning their last three games but not enough domino's fell for them to reach the Big XII title game. The Tigers have a balanced offensive attack. It's about 50/50. Blaine Gabbert has been pretty good through the air this year. Nothing too fancy but he gets the job done. He can also run the ball too but because the play calling is so balanced he's been sacked a few times so his running numbers are tainted. De'Vion Moore, Henry Josey and Kendial Lawrence are the trio of running backs Gabbert gets to work with. All three have play making abilities. Moore is the only one who doesn't have a run for more than 39 yards. (Josey and Lawrence have scored TD's on runs of 62 and 71 yards). In this game, I'm picking the Tigers. With Iowa's recent struggles, I think Mizzou will have more motivation and drive to win. Also, they have more than one guy running the ball to rely on. All they have to do is stop Adam Robinson on defense and this game is over really. Tigers take it. It won't be as close as the score shows though.
Mizzou 31 Iowa 23. Brandon: Mizzou 36 Iowa 32.
Wednesday December 29th 2010
Military Bowl: East Carolina Pirates 6-6 (5-3) vs Maryland Terrapins 8-4 (5-3) 2:30 PM ET ESPN
(RFK Stadium - Washington, DC)
The Terrapins were one of the teams in the ACC who controlled their destiny in the conference. Losing to Florida State November 20th blew their chance for the conference title game. With that said, Danny O'Brien is a fantastic quarterback. Torrey Smith is his main target and was the target on 12 of O'Briens 21 touchdowns. Devin Megget and Da'Rel Scott provide a reliable tandem in the back field. This Maryland squad has plenty of talent to get the job done. ECU has some play makers of their own Dominique Davis needs 301 yards to reach 4000 on the year. He has 36 touchdowns thrown with 14 interceptions. Jonathan Williams helps him along in the back field with Dwayne Harris and Lance Lewis being the go to guys in the passing game. So why was ECU 6-6? Their defense. In all six losses they've allowed at least 42 points. They let Navy put up 76 and Rice put up 62 on them. Yeah that's a no/no. They rank 118th in points allowed. That's third worst in the country. The offense averaged 38.2 points and that was good for 12th in the nation. I can't go with the Pirates here. This defense is just bad and Maryland is too talented to not exploit that. I give ECU's offense some credit, they will score points, but there will be a cushion in the final score. UMD 48 ECU 34. Brandon: UMD 33 ECU 23.

Texas Bowl: Baylor Bears 7-5 (4-4) vs Illinois Fighting Illini 6-6 (4-4) 6 PM ET ESPN
(Reliant Stadium - Houston, TX)
Can anyone remember the last time the Baylor Bears went bowling? It's great to see them back in to the post season. For a bit it looked like they'd do better than 7-5, even make things interesting in the Big XII race, still they felt short. I wouldn't call it a failure though. Good job BU. The Bears are led by an extremely talented quarterback in Robert Griffin III. He's thrown for just under 3200 yards this season 21 td's and 8 int's. He's also very involved in the running game scoring 8 td's on the ground. Still, Jay Finley is the main man for BU out of the backfield. Look for the two of them to make plays on the ground. Kendall Wright has been Griffin's most popular target but there are a lot of options for him to throw to. Illinois relies heavily on their running game. Mikel Leshoure has ran the ball 252 times this season. The entire Illini offense has thrown the ball 261 times total this season. Quarterback Nathan Scheelhaase is the second option to the run game. This offense doesn't pass very often. Leshoure has 1513 yards on the season for a team that is very one dimensional. I'm going to have to pick Baylor for this game. Their offense has so many more options to work with. I like a comfortable win for the Bears.
BU 34 Illinois 17. Brandon: BU 34 Ill. 31.
Valero Alamo Bowl: #14 Oklahoma State Cowboys 10-2 (6-2) vs Arizona Wildcats 7-5 (4-5) 9:15 PM ET ESPN
(Alamodome - San Antonio, TX)

Around Halloween time this game would have looked like a match up between two power houses. Arizona was 7-1 at the time. Since then, they've dropped four straight, the most recent being in 2OT to rival Arizona State 30-29. They've suffered a couple injuries so that could have affected some of that. Their top performer is Juron Criner out of the receiving core. No other receiver is close to what he's done on the field. He's caught nearly 30 more passes than the next closest teammate. Nic Grgisby and Keola Antolin are the tandem and running back and Nick Foles has a quarterback rating of 145.5 with just under 3000 yards on the year. He's been in and out with injuries though and with only Criner to rely heavily on, this offense can't quite be trusted at all times. Yet they can be dangerous at times too. They're very hit and miss. Oklahoma State on the other hand has three huge play makers on offense. Brandon Weeden, Justin Blackmon and Kendall Hunter will be all over the field. Blackmon has accounted for 18 of Weeden's 32 passing touchdowns and Hutner has scored 16 on the ground. The talent level here isn't really close. I like OSU to run away with this one. Since their defense has had struggles many times and especially recently, the Cowboys will take this one and will look good doing it. OSU 37 Zona 17. Brandon: OSU 35 Ariz. 28.

Thursday December 30th 2010
Bell Hellicopter Armed Forces Bowl: Army Black Knights 6-6 vs 7-6 (6-2) 12 PM ET ESPN
(Gerald J. Ford Stadium - Dallas, TX)
Army is bowl eligible for the first time in fourteen years. They are most likely the biggest reason that this is the first year all three service academies are bowl eligible the same season. SMU hasn't played in a bowl game for 25 years. That's an eye opener. They used to be a powerhouse back in the 80's too. So this game means alot to both teams. Army, like Navy and Air Force, is known for their running game. Running back Jared Hassin and quarterback Trent Steelman are the cornerstone of this option attack. But there are still guys like Patrick Mealy, Malcom Brown and Brian Cobbs who have contributed significant amounts to this offense. Steelman has only thrown the ball 111 times this season. The Black Knights will be looking to keep control of this game and the ball. Keeping SMU off the field will be the key. Long drives ending in points will be their goal. June Jones has this SMU program headed in the right direction. There is a lot of talent on this team. Kyle Padron is the quarterback and has thrown for 3526 yards this season. Zach Line has 1391 yards out of the back field and there are two receivers, Aldrick Robinson and Cole Beasley who have over 1000 yards receiving. Robinson averages 20.4 yards per catch. Are you kidding me? That's ridiculous. With Army running the ball and eating the clock, I think they'll be able to make this a game. SMU needs to accept the fact that the Knights will run the ball and should focus on holding them to field goals rather than touchdowns. If they don't, this game could go down to the wire. However, I am picking SMU to take this one. I believe making Army punt once or twice and holding a long drive to a field goal could be enough to get the W. It won't be an easy one and don't be surprised if I'm wrong. But I'm picking the Mustangs in a hard fought battle.
SMU 27 Army 23. Brandon: SMU 30 Army 24.
New Era Pinstripe Bowl: Syracuse Orange 7-5 (4-3) vs Kansas State Wildcats 7-5 (3-5) 3:20 PM ET ESPN
(Yankee Stadium - Bronx, NY)
The Orange haven't been to a bowl since 2004 and K-State hasn't since 2006. Naturally, both schools will be wanting this one. Perhaps it's good that both schools will be working out the lack of the post-season kinks against each other in the inaugural Pinstripe Bowl at Yankee Stadium. The Orange is led by running back Delone Carter. He's had 204 carries for 1035 yards and 7 touchdowns this season. He's proven to be a dangerous threat out of the backfield for Syracuse who will be playing in their home state of New York, so they may have the home field edge from the locals. The Wildcats have had an alright season. They struggled in their final outing against North Texas, barely putting them away 46-41. They've been proven to be vulnerable a few times this season. They started 4-0 and finished 3-5 which began by getting blown out at Nebraska. The Wildcats have a dangerous RB of their own in Daniel Thomas. He is five yards shy of 1500 for the season and has scored 16 touchdowns. When he has a good game, KSU can have success and that is exactly what I see happening. Both schools struggle a bit on the talent side and they are pretty evenly matched. Even though 'Cuse is playing in NY, I like KSU to win in a close low scoring battle. The QB/RB duo of Carson Coffman and Daniel Thomas is a bit better than SU's Ryan Nassib and Delone Carter.
KSU 16 SU 14.
Brandon: KSU 30 Cuse 20.
Franklin American Mortgage Music City Bowl: North Carolina Tar Heels 7-5 (4-4) vs Tennessee Volunteers 6-6 (3-5) 6:40 PM ET ESPN
(LP Field - Nashville, TN)
I had to do some research before breaking down how the Tennessee Volunteers made it to a bowl game this year. I was under the impression that a victory against a D-IAA school doesn't count in the 6 required to become bowl eligible. Apparently, every four years you get credit for one victory over a D-IAA school. This year being that fourth. (That's why Arizona State didn't make it, they were 6-6 with two wins over D-IAA schools). How lucky is Tennessee? They barely made it. The combined record of the D-IA schools they beat this season, is 17-43. (Kentucky 6-6, UAB 4-8, Ole Miss 4-8, Vanderbilt 2-10, Memphis 1-11). Not to mention the D-IAA team they beat (Tennessee-Martin) finished 6-5. Yeah ... ridiculous. It's teams like this that prove the BCS is a fricken joke and the bowl post season in college football needs to go. A playoff is the only way we will ever have a quality post season. The Vols have swapped through two different quarterbacks all year and they combined with 22 TD's and 12 INT's. Tauren Poole out of the backfield is their best offensive talent. The Tar Heels are better than their record tells us. Three of their losses were all under seven points. LSU and GT beat them by the same score of 30-24, and they lost to NC State 29-25. TJ Yates is a great quarterback. This team has struggled all year with eligibility troubles for a lot of players so I'd say 7-5 and a post season game is a success. They have a tandem in the back field in Johnny White and Shawn Draughn that can give Yates some breathing room in the passing game. I don't think he'll need much here. Tennesseee is just a bad team. NC wins.
UNC 34 Ten. 16. Brandon: UNC 28 Ten 23.
Bridgeport Education Holiday Bowl: #18 Nebraska Cornhuskers 10-3 (6-2) vs Washington Huskies 6-6 (5-4) 10 PM ET ESPN
(Qualcomm Stadium - San Diego, CA)
This is a rematch from a game earlier in the year where Nebraska destroyed UW and Jake Locker had the worst performance of his college career. Locker was one loss away from never reaching a bowl game in his four years as a Washington Husky. He has received much negativity due to all of the hype he brought with him to the school. He was supposed to do amazing things at UW. It didn't take long for Husky fans to see that that wasn't going to happen. He couldn't lead this team to march down the field and have a game winning final possession against BYU in the season opener. Perhaps he just couldn't live up to the potential he had. However, he led this team to a three game winning streak (two on the road) at the end of the season to clinch a bowl game. This has been the best season for his Huskies since he's been the quarterback. Still, Lockers numbers haven't been so great. Chris Polk has been the reason for UW's success this year. He is a dangerous threat out of the back field. Too bad this team is playing Nebraska. Taylor Martinez is 48 yards shy of 1000 yards rushing and Rex Burkhead is 88 yards shy of that mark. Roy Helu is already past it with 1211 yards. Yeah ... this Huskers team is loaded with talent. They don't throw the ball often and no need to with numbers like that. I'm afraid for Washington here. Yes they made it to a bowl game, but what can Locker prove? This is his last opportunity before the Senior Bowl to show the NFL scouts he's worthy of the hype. Chris Polk can't do it all. I'm not picking the Huskies. NU wins big.
NU 38 UW 20. Brandon: NU 34 UW 17.
Friday December 31st 2010
Meineke Car Care Bowl: Clemson Tigers 6-6 (4-4) vs South Florida Bulls 7-5 (3-4) 12 PM ET ESPN
(Bank of America Stadium - Charlotte, NC)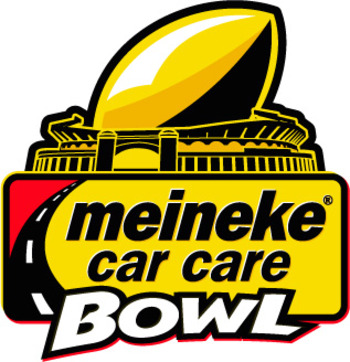 Sophomore quarterback Kyle Parker is a talented young man. Yet he has 12 TD's and 10 INT's this season. He's had some hype from also being a Pitcher for the Tigers baseball team. Perhaps he's just still young and has a lot of room to grow in the off season. The Tigers success this season can be attributed to Jamie Harper and Andre Ellington on offense. Both share the carries fairly well and are very talented. If this running game gets going, Clemson looks very, very good. The Bulls offense is very similar to Clemson. BJ Daniels hasn't taken all the snaps this year ... and his numbers show why. 9 touchdowns and 12 interceptions. OUCH. Bobby Eveld is the backup. If Daniels struggles, I wouldn't be surprised to see Eveld take some snaps. However, Daniels is better in the running game so I bet he plays most of the way, if he even sits at all. Moise Plancher and Demetris Murray are the two backs he works with. I don't think there will be a lot of scoring in this game, but I'm going to have to go with the Clemson Tigers here. They have a light edge in the most important position on the field. I trust Parker more than Daniels. Not that either team will throw the ball much anyway.
Clemson 26 USF 14. Brandon: Clem. 28 USF 20.
Hyundai Sun Bowl: Miami (FL) Hurricanes 7-5 (5-3) vs Notre Dame Fighting Irish 7-5 2 PM ET CBS
(Sun Bowl - El Paso, TX)
In the preseason the Hurricanes were projected to make a serious run for the ACC title and be once again an elite program in the country. Quarterback Jacory Harris was supposed to make a run for the Heisman Trophy. He even tweeted that Lebron James should come see him play in south beach. So what happened? Jacory Harris couldn't stop throwing interceptions and Stephen Morris came in. Too bad because he couldn't stop throwing picks either. Between the two they have 19 touchdowns and 16 interceptions thrown. Not to mention the other two QB's who've taken snaps for the U had three picks combined. With all of those turnovers, Leonard Hankerson isn't complaining. He's caught 12 of those TD passes this year and has over 1000 yards. Miami's running game isn't bad. Damien Berry and Lamar Miller can be dangerous. If the 'Canes could find a reliable quarterback, they have the talent to be elite. Lets hope whoever they find for their head coach next season can bring one in. What a dramatic year it's been for the Irish dealing with a death of a student who filmed their practices. Then starting quarterback Dayne Crist went down with a season ending injury in the Tulsa game (which they lost by one). Early in the season they had two tough losses to both Michigan and Michigan State. The next week they got blown out by Stanford. Then won their next three. After the Tulsa game #14 Utah came to South Bend and the Irish surprised the nation keeping them out of the end zone winning 28-3. Malcom Floyd is the biggest threat for Miami in this one. He can catch anything and make his own plays. Tommy Rees should do a good job of getting him the ball, as well as the two backs out of the back field. Cierre Wood and Armando Allen both have 107 carries this year. On defense, Manti Te'o will be looking to put pressure on whoever Miami goes with at QB. I like this one to be a close defensive battle. I think ND will come away with the win. Their defense seems to be a little more tough and talented than Miami's. It will be close though.
ND 17 Miami (FL) 16. Brandon: Miami 28 ND 21.
AutoZone Liberty Bowl: #25 UCF Knights 10-3 (7-1) vs Georgia Bulldogs 6-6 (3-5) 3:30 PM ET ESPN
(Liberty Bowl - Memphis, TN)
How bout these Knights? 10-3 with a BCS ranking? That's what I like to see. The little guys surprising the nation. UCF is coming off their victory over SMU in the C-USA title game. The only three losses for UCF was a 28-21 loss to NCSU, 17-13 to Kansas State and 31-21 the Southern Miss. Jeffrey Godfrey takes the snaps for the Knights and he is very much involved in the running game, although his passing numbers aren't bad either. This team is very talented and has all the pieces they need to be successful in this bowl game. This Georgia team is another that's grateful for the D-IAA team rule. (See the Tennessee North Carolina game). They started 1-4 and were saved by a beating Idaho State. Some would like to say beating their rival Georgia Tech in the season finale helped them get there too, but win or lose any other year, they wouldn't be in anyway. I'm not sure if I like the "every fourth year" rule. But oh well. A.J. Green didn't play the whole season and not surprisingly leads this team in receptions, yards and receiving touchdowns. Aaron Murray has many options to throw the ball too. Washaun Ealey can get it done on the ground too. UGA's problem is either their defense or no unity. They have plenty of talent on the squad, I just don't know why they didn't have a better record. I mean, they lost to Colorado. Some losses were close, others weren't. I'm going to have to pick UCF to win this one. They're on a roll right now and looking forward to next season and I just can't figure out the Bulldogs. The Knights seem to have more to play for. This will be all about momentum and I don't see Georgia showing up with much desire either.
UCF 27 UGA 19. Brandon: UGA 34 UCF 27.
Chick-fil-A Bowl: #20 South Carolina Gamecocks 9-4 (5-3) vs #23 Florida State Seminoles 9-4 (6-2) 7:30 PM ET ESPN
(Georgia Dome - Atlanta, GA)
The Chick-fil-A bowl provides us with one of the best non-BCS game match ups. Both teams come from competitive conferences and had their chances to be in their conferences respective BCS bowl games. They are the ACC and SEC runners up. Florida State's strength is their speed. Christian Ponder has had kind of a disappointing season compared to the hype he got early on. They don't really have one play maker but it's their speed that has attributed to their success this season. They have just all around talent every where without a top tier talent player who rises above the rest. They like to spread the ball around on offense to mostly a trio or running backs and Ponder has four guys who have caught at least thirty passes. But, the fact that they don't have a go to guy can serve as a problem if this game goes down to the wire. The Gamecocks on the other hand have everything FSU has and more. Marcus Lattimore is a freshman phenom running back and he can change a game at any moment. Alshon Jeffery is the same caliber at wide receiver and Stephen Garcia is the man they both rely on. There's no chance I can go against South Carolina in this game because of what I said before. Jeffery and Lattimore can single handedly make game breaking plays and FSU lacks that capability. Cocks win by a close margin, but comfortably.
SC 31 FSU 24. Brandon: SC 37 FSU 32.
Saturday January 1st 2011
TicketCity Bowl: Northwestern Wildcats 7-5 (3-5) vs Texas Tech Red Raiders 7-5 (3-5) 12 PM ET ESPNU
(Cotton Bowl - Dallas, TX)
Northwestern finished in eighth place in the Big Ten this season. All five of their losses were in conference play. Quarterback Dan Persa is out for the bowl game so they will have to rely on Evan Watkins to take the snaps for him. He didn't fare well in his first effort. He did throw for over 302 yards in 49 attempts but he got picked off four times. Persa had also carried the ball more than anyone else on this team. Mike Trumpy will likely have to pick up that slack, although Watkins does have that ability too. Like the Wildcats, all five of the Red Raiders losses came in conference play. All of them being by double digit margins. Although they beat Baylor and Missouri both by seven so they have proven they can compete in any game. This is your typical Texas Tech run and gun offense. Taylor Potts has 3357 yards, 31 touchdowns and only 9 interceptions. Lyle Leong and Detron Lewis are the two guys he relies on most to catch passes. Their yards are nearly the same but Leong has 17 touchdowns to Lewis' 6. Also, Baron Batch and Eric Stephens are a tandem at running back. Though both schools share the same record I don't think this one will be close. Especially with NW's star quarterback out. I like the Raiders to win very comfortably here. Potts will have a big game. TTU 34 NW 20. Brandon: TTU 42 NW 30.

Outback Bowl: Forida Gators 7-5 (4-4) vs Penn State Nittany Lions 7-5 (4-4) 1 PM ET ABC
(Raymond Jones Stadium - Tampa, FL)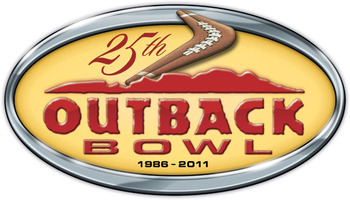 The Gators are busy dealing with the drama of their head coach Urban Meyer. Who knows what effect that will have on them for this game. They lack one play maker to rely on but they had enough overall talent to win seven games this year. Jeffery Demps has the most carries and yards for this running game but there are six players who've carried the ball at least 45 times so there is some depth there. John Brantley has nine picks and touchdowns a piece through the air so they've clearly had their struggles. Except for the Michigan State game, every other loss Penn State has had this season, they got blown out. The final being 24-3 in two of them. They've also had their struggles this season. They have a young team so the future is bright. Matthew McGloin will likely get the snaps for them. He took over for Robert Bolden halfway through the season and has done exceptionally better. Their completion percentage is dead locked at 58% but Bolden had 5 touchdowns and 7 picks, while McGloin has 13 TD's and 4 INT's. It's clear who the man should be if they want to have ball control. Evan Royster is their man out of the backfield. He needs 84 yards for 1000 on the season. I had a tough time picking this game. Penn State is young, but Florida is just loaded with talent so I see it swinging either way. I'm going to pick Florida just for the experience factor. I don't like them to blow out the Nittany Lions by any means, but their overall talent and experience outweighs the youth of Penn State in my mind. Barely.
FLA 17 PSU 16. Brandon: FLA 33 PSU 21.
Capital One Bowl: #9 Michigan State Spartans 11-1 (7-1) vs #16 Alabama Crimson Tide 9-3 (5-3) 1 PM ET ESPN
(Florida Citrus Bowl - Orlando FL)
This is probably the most intriguing bowl outside the BCS. Heck, it's probably more intriguing than the Fiesta Bowl. No offense Oklahoma but Uconn? Really BCS? Michigan State probably feels the most left out over Alabama. They were at the tail end of a three way tie in the Big Ten, yet their BCS rank was lower than Ohio State and Wisconsin, therefore getting snubbed. They will either be ticked off and ready to prove they belong, or let down and not show up. Alabama has known for a few weeks they weren't going to get their shot to defend their title from last year. They suffered the one point loss to Auburn so they were unable to knock their bitter arch rival out of the conference title game and virtually the BCS title game. They still have Greg McElroy, Mark Ingram and Julio Jones. They are well rounded and have much depth. MSU is new to this national love they're getting. They have a lot of talent of their own. Kirk Cousins is a solid quarterback and Edwin Baker is very explosive out of the backfield. The receivers lack just one play maker yet all have the ability to make big plays. Nine different players who've caught a pass have gone for at least 24 yards is their longest and four of them have been 40plus yards. This will be a hard fought game on both sides from both teams. Probably the most complete game we will see. I'm picking Alabama to win a close one. It will go down to the last drive or play. Do not be surprised if MSU pulls this off.
Bama 27 MSU 26. Brandon: MSU 32 Bama 31.
Gator Bowl: #21 Mississippi State Bulldogs 8-4 (4-4) vs Michigan Wolverines 7-5 (3-5) 1:30 PM ET ESPN2
(EverBank Field - Jacksonville, FL)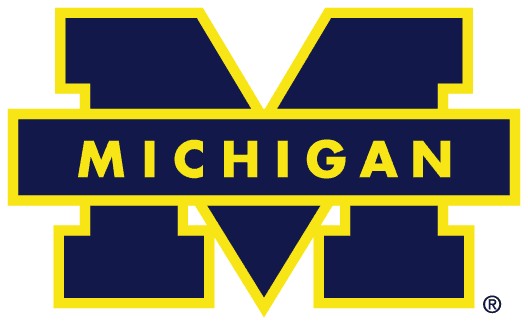 How bout Mississippi State being in the national recognition spotlight? Good thing they had a good season or the only attention they'd be getting is all of this Cam Newton drama. Having said that they are a pretty decent team this season. Thier loss to Auburn was by a field goal, and they lost to Arkansas in double overtime. Boy how the national scene would look much different if they'd won those two games. Chris Relf has carried the ball the most for the Bulldogs yet Vick Ballard's rushing stats are what have given MSU the success this season. They will look to run often to keep control of the game in their hands. Relf can be trusted to throw the ball though if they ahve to. Though they don't very often. Michigan has been very up and down. They stared 5-0 and looked to have the Heisman winner on their team. Then they lost their next three games by over 10 points and barely beat Illinois in triple overtime the next week. After those first few weeks, Denard Robinson came back down to earth and showed his youth. He is still, however, the main man on this offense. Their success rides on his shoulders. He's thrown the ball just five more times than he's ran it this season so they will also be playing the "ball control" game with MSU. I do like Robinson to have a good game and be the difference in this one. The Bulldogs can't stop nor match his play making abilities. Could this bowl win secure Rich Rod's job for now?
Mich. 34 MSU 24. Brandon: MSU 34 Mich. 30.
BCS Rose Bowl: #3 TCU Horned Frogs 12-0 (8-0) vs #4 Wisconsin Badgers 11-1 (7-1) 4:30 PM ET ESPN
(Rose Bowl - Pasadena, CA)
Other than the BCS title game (and the BYU game ... naturally) this is the bowl I'm most looking forward to. How intriguing is it? Here are some stats. Wisconsins is 4th in over all points scored offensively with the 12th most rushing yards per game in the nation. They average 43.3 points per game while allowing just 20.5. They don't have much of a passing game being just 70th in the country in yards. TCU on the other hand, is tied with the Badgers, averaging 43.3 points per game. They have the 8th best rushing offense in the country and the best overall defense allowing just 11.4 points per game. The Frogs have a better passing game coming in 53rd overall. Some may argue the competition level is different between the two schools so this is a perfect test to see who is better. John Clay needs 64 yards for the Badgers and he'll be the second thousand yard rusher of the season on this team. Montee Ball has 864 so he would need 136 yards. Clay may get close to that, but don't you dare count on it. TCU's defense is so powerful I would be surprised to see Wisconsin not struggle to have ball movement on the ground. TCU has the edge on both sides of the ball for me. They are just as talented in the running game but they have also relied on their passing game more than the Badgers have. Andy Dalton can and will be trusted to lead this offense down the field. It's Wisconsin's defense that will be the difference in this one. They won't be able to shut down the Frogs, who will be shutting down the Badgers. TCU will just barely give up more points than their average allowed this season.
TCU 30 Wisc 13. Brandon: TCU 30 Wisc 24.
BCS Tostitos Fiesta Bowl: #7 Oklahoma Sooners 11-2 (6-2) vs Connecticut Huskies 8-4 (5-2) 8:30 PM ET ESPN
(University of Phoenix Stadium - Glendale, AZ)
Oklahoma is on a dreadful drought of losing in BCS bowl games. Unless Jordan Todman of UConn has the best running game anyone has ever seen in college football history, that drought will be ending in Glendale. A Big East representative is just embarrassing to this so called "perfect" post season system. Teams like Michigan State, Boise State, Alabama and even LSU deserve to be in this game more than they do. Uconn will get blown out. Jordan Todman is the only play maker they have. Landry Jones, Demarco Mruray and Ryan Broyles will have have field days against this Husky defense. This one won't even be close by halftime.
OU 45 UConn 13. OU 44 Uconn 17.
Monday January 3rd 2011
BCS Discover Orange Bowl: #4 Stanford Cardinal 11-1 (8-1) vs #13 Virginia Tech Hokies 11-2 (8-0) 8 PM ET ESPN
(Sun Life Stadium - Miami Gardens, FL)
I do like this match up but I'm not quite sure I understand the placement here. It seems the travel for Stanford and Connecticut is a little ridiculous. Sending UConn to this game and Stanford to the Fiesta Bowl would have made more sense on the travel for both the team and fans. Viriginia Tech is glad to be here. After starting 0-2 with their second loss being the James Madison at home (WHAT?) they are just fire trying to prove to everyone that loss was a fluke. Tyrod Taylor is the man for this team. The Hokies do like the run the ball a lot and that will be good because that means ball control and keeping Andrew Luck off of the field. But Taylor also has great passing numbers as well. Four guys for the Hokies have ran the ball over 100 times. The Stanford defense will have their hands full. The Hokies defense will be busy as well. Luck is ridiculous and also has the dual threat. Although Stanford has mainly one guy they rely on out of the back field and his name is Stepfan Taylor yet others like Anthony Wilkderson and Tyler Gaffney have proven they can be trusted as well. This game will depend on which quarterback plays better. The pressure is on Luck because he doesn't have as much resources as Taylor does. This one could be a potential overtime game or last drive thriller and both quarterbacks have the ability to win it for their respective squads. The Cardinal will be looking at film from the Oregon game because that's the only team they've faced this season so far who runs comparatively to VT and they got blown out of that. I'm not too confident in this one but I'm going with Virignia Tech in overtime. I do like Andrew Luck, but The Hokies have too many weapons in the running game and they can pass whenever they want to keep their opponent guessing. Taylor has 23 TD's and 4 INT's through the air in an offense that has nearly doubled their rushing attempts than passing attempts. I just find that more dangerous than an offense with a solid quarterback who relies heavily on just one guy out of the back field. Luck will lead his team to score points, but VT's running game is too much. I'm calling on overtime victory and Stanford will never lead this game.
VT 40 Stanford 37 OT. Brandon: Stan 28 VT 27.
Tuesday January 4th 2011
BCS Allstate Sugar Bowl: #6 Ohio State Buckeyes 11-1 (7-1) vs #8 Arkansas Razorbacks 10-2 (6-2) 8 PM ET ESPN
(Louisiana Superdome - New Orleans, LA)


This is a game between two very good football teams. Yes, the BCS does get some match ups right. Two great quarterbacks square off in New Orleans. Wide Receiver DJ Williams needs 11 receiving yards and he will be the fifth Arkansas WR with over 600 yards for the season. Ryan Mallett can throw the ball wherever he wants to. What a commodity that is. Knile Davis is very dangerous on the ground for the Razorbacks also. This offense can explode at any moment in any game. Terelle Pryor has two particular receivers he likes to rely on but the Buckeyes run more than they throw. They aren't as balanced as Arkansas. Pryor is the second leading rusher on this team behind Dan Herron. Both players average over five yards per carry. Pryor however, is more turnover prone than Ryan Mallett is and clearly the Razorbacks have just a bit more talent than Ohio State. I like Arkansas to win in a close hard fought low scoring game. Ark. 24 Ohio State 20. Brandon: OSU 34 Ark 28.
Thursday January 6th 2011
GoDaddy.com Bowl: Miami (OH) Redhawks 9-4 (7-1) vs Middle Tennessee Blue Raiders 6-6 (5-3) 8 PM ET ESPN
(Ladd-Peebles Stadium - Mobile, AL)
Sure this will be the only college football game on TV this day ... but I can't believe that many people will be interested in it. a 6-6 Middle Tennessee school out of the Sun Belt? It's teams and games like this that make everyone cringe at the post season system for D-IA college football aka FBS. Temple University is probably livid about that as well. They were 8-4 and got snubbed from a bowl. Oh well. Dwight Dasher got some love early in the season but it wasn't much and deservedly so. He hasn't really done that great. 6 passing touchdowns with 14 INT's? I laughed at the fact that he was even talked about. Oh yeah and he runs sometimes. Phillip Tanner out of the backfield is the main talent on this squad. Zac Dysert has only one more touchdown pass than interception, but that's still much better compared to his counterpart for this game. Also, Thomas Merriweather will be challenging this Blue Raider defense out of the backfield. Don't expect a cleanly played game, but do expect Miami to win very comfortably. Armand Robinson will reach the century mark in receiving yards for the Redhawks as they get their tenth win of the season.
Miami (OH) 37 MT 20. Brandon: Miami 28 MT 24.
Friday January 7th 2011
AT&T Cotton Bowl: #17 Texas A&M Aggies 9-3 (6-2) vs #10 LSU Tigers 10-2 (6-2) 8 PM ET FOX
(Cowboys Stadium - Arlington, TX)
The only bowl game on FOX has two solid schools from arguably the two toughest conferences in college football. I heard something the other day that Texas A&M has eleven starters from Dallas, TX. That will make things very interesting in this game as they square off against the Mad Hatters LSU Tigers. Ryan Tannehill has done exceptionally well for the Aggies since he took over for Jerrod Johnson. His completion percentage is 65.3 and he's thrown eleven touchdowns and only three interceptions. Looks like he's the man of the future in College Station. Cyrus Gray is a dangerous back that LSU will have to stop. The Tiger defense needs to make this Aggie squad one dimensional if they plan on winning comfortably. If not, it could be a game. LSU will look to control the clock with their running game. They've only thrown the ball 282 times this season compared to the 483 running plays Stevan Ridley is the main man. He's ran the ball fifty times short of the entire passing game this season. In fact, the passing game isn't very good for LSU. TAMU needs to focus. This Tiger defense is solid but if they can force LSU to punt a few times and hold them to field goals on a couple drives, they could win this one. LSU's offense is talented but very one sided. It's their defense that's gotten them this far. I'm going with the Aggies to win on a last second field goal. Their offense is more balanced so they have some options. But I am giving LSU's defense credit. Still, I think the Aggies will be able to stop the Tigers on a few drives and get the upset.
TAMU 17 LSU 16. Brandon: LSU 30 TAMU 27.
Saturday January 8th 2011
BBVA Compass Bowl: Pittsburgh Panthers 7-5 (5-2) vs Kentucky Wildcats 6-6 (2-6) 12 PM ET ESPN
(Legion Field - Birmingham, AL)
I don't like this match up at all. Pitt has been nothing but disappointing this season. As a preseason top 15, they showed no one any reason to pick them to win anything. Dion Lewis has probably been the second most disappointing player in the country second to only Jake Locker. He has quietly got 956 rushing yards in a terrible Big east conference but hasn't shown any signs of domination. He can be shut down by anyone. Ray Graham has been by his side out of the backfield all season and it's a good thing. Tino Sunseri is a young inexperienced quarterback. Who knows what he can do in this game. Very unpredictable for the bad. To top it all off ... they aren't sure who will be coaching them in this game. Many problems at Pitt. Kentucky is going through some drama of their own. They'll have a cold QB playing for them. Starter and 3000 yarder Mike Hartline has been suspended for the game do to an alcohol related incident. He had twenty three passing touchdowns and only nine interceptions this season. He will be greatly missed by Randall Cobb and Christ Matthews. Derrik Locke will need to pick up the slack in the running game. I don't like either school to score a lot of points but I give the edge to Pitt's running game ... sadly.
Pitt 16 UK 13. Brandon: Pitt 30 UK 21.
Sunday January 9th 2011
Kraft Fight Hunger Bowl: #15 Nevada Wolfpack 12-1 (7-1) vs Boston College 7-5 (4-4) 9 PM ET ESPN
(AT&T Park - San Francisco, CA)
Who would have thought that a WAC and ACC team match up would see the WAC school in the top 15? Nevada has been a huge surprise this year and Senior quarterback Colin Kaepernick is the man whos led them this far. He and Vai Taua are the best rushing duo in the country. Taua has 1534 yards with 19 TD's and Kaepernick has 1184 yards on 20 TD's. He also has 20 passing touchdowns. If this team wouldn't have overlooked Hawaii, they'd be playing in a BCS game this season. Another reason a playoff is desperately needed for this sport. BC's defense has led them to their 7-5 record. They rank 19th overall in points allowed. Yet their offense is 93rd in passing, 87th in rushing and 109th in scoring. WOW. That's horrible. They were 2-5 to start the season and went on a five game win streak when they faced the garbage of the ACC. I don't see this one being close. Sure the Eagles defense is exceptional, but they can't be complimented at all on the other side of the football. Nevada gets the blowout.
UNR 30 BC 6. Brandon: UNR 38 BC 28.
Monday January 10th 2011
BCS National Championship Game: #1 Auburn Tigers 13-0 (8-0) vs #2 Oregon Ducks 12-0 (9-0) 8 PM ET ESPN
(University of Phoenix Stadium - Glendale, AZ)
Here we go for all the marbles. Many have predicted this match up for a few weeks and others were hoping one would fall, yet knowing they wouldn't. How many times now have we seen two Heisman finalists square off in the title game? LaMichael James looked up at Cam Newton as he hoisted that Heisman Trophy and gave his speech while James was left in the audience. James was the best running back in the nation with 1682 yards, 21 touchdowns and averaging six yards per carry. But don't forget about Darron Thomas, Kenjon Barner and Jeff Maehl. This Ducks team is the fastest in the country and they pride themselves on that. They're the fourth best rushing team in the country and first in total points scored with just under fifty a game. That's ridiculous. Also the defense is fourteenth holding teams to 18.4 points. Auburn is led by Mr. Newton who has accounted for 48 touchdowns this season. His QB rating is 188.2 but also averages 5.8 yards per carry on 1409 rushing yards. Clearly the best player in the country. They are sixth in the country in scoring just under 43 points per game. It's the defense that I question for the Tigers. they're 54th in the country averaging 24.5 points allowed. Some would argue that's what you get in the SEC. But they also haven't faced an offense like this Ducks squad. Sure Alabama is talented, but no one is as quick as Oregon is. I'm going with the ducks in a hard fought title game. Although, it may come down to which offense is on the field at the end of the game. Auburn has squeaked by a lot of games. The Kentucky and Clemson games put them in question in my mind. No disrespect to Mr. Newton, but I'm picking Oregon as the 2010 National Champions. Lets see how he responds like he has all year to adverse drama off the field. Will he prove me wrong?
Oregon 33 UA 31. Brandon: Oregon 44 UA 40.