Rough week four for me. Temple showed promise but blew it. Arkansas had a blowout in their hands but didn't show up for the fourth quarter. Notre Dame didn't even really have a chance. I ended 17-5 (0-3) Brandon went 20-2 (0-1). For the year that puts me at 75-14 (3-6) with Brandon at 80-9 (2-3). Picking upsets incorrectly is starting to kill me. My helmet sticker from week four goes to Cam Newton of Auburn. He was 13-21 for 158 yards and 2 touchdowns. He also ran the ball 25 times for 176 yards and had 3 more touchdowns as he led his Auburn Tigers over the Gamecocks of South Carolina 35-27. Brandon's helmet sticker goes to Terrelle Pryor. His Buckeyes scored 73 points and he led the way going 20-26, with 224 yards and 4 touchdowns. He also ran it just 7 times for 104 yards and a touchdown averaging 14.9 yards per carry.
Week five has several top-25 matchups and a few byes as well. (Visit the following link for the latest on Brandon's blog. See his picks, break downs and opinions throughout the CFB season and of course throughout the world of sports.
http://thebiznizfiles.blogspot.com/
)
Thursday September 30th 2010
#24 Oklahoma State Cowboys 3-0 vs. Texas A&M Aggies 3-0
The Thursday night showdown is very intriguing. Both teams undefeated and coming off of pretty weak schedules. Each playing thier first true test of the year. This is the Aggies first road game of the year and the Cowboys haven't left Stillwater. Jerrod Johnson struggled against FIU as did the whole team. A late touchdown sealed the 27-20 win for TAMU over the Panthers. Both of these teams look very even to me. Brandon Weeden has a favorite target for the Cowboys in Justin Blackmon. He has seven more receptions than the number two guy. Kendall Hunter has 472 yards on the ground for OSU. Jerrod Johnson has a couple differenet recievers he likes to throw too but he's struggled with interceptions throwing four already this season all in the FIU game. Christine Michael leads the way for the Aggies running game. This one was pretty tough to pick and I initally wanted the upset but with the Aggies struggling with turnovers I think OSU will come away with the win in a pretty close matchup. OSU 32 TAMU 24.
Brandon: OSU 36 TAMU 23.
Saturday October 2nd 2010

Nick Saban coached his Tide to a
fourth quarter come back against
Heisman hopeful Ryan Mallett and
the Arkansas Razorbacks
 #1 Alabama Crimston Tide 4-0 (1-0) vs. #7 Florida Gators 4-0 (2-0)
Alabama had the great come back in the fourth quarter at Arkansas. Down 20-3 they score 21 unanswered to pull the 24-20 comeback. That is the epitomy of a National Champion. Never giving up and coming from behind to make sure the W is in the bag. Fantastic performance by Mark Ingram as well. I tip my head to Saban's crew. Florida ran all over the Kentucky Wildcats and we have an SEC battle of the unbeatens. Florida's offense looked great last week. Brantley's numbers were solid and the running game was spread out. They didnt' need a breakout performance from Jeff Demps finally. He didn't even score against UK. That's good for this Gators team. Demps is their guy but they are finding their identity when everyone is stepping up. Trey Burton had all five rushing touchdowns for Florida. Oh yeah and he only ran the ball five times. He also was 1-1 through the air and caught five passes from Jeff Brantley with 37 yards and had the only receiving touchdown. Those are ridiculous numbers. Oh yeah and he's listed as a quarterback on ESPN.com. I do not see that happening this weekend as the Gators host the Champs. In fact, I don't see them winning either. With all due respect to Urban Meyer and the rest of the Gators, they don't have enough weapons to pull the upset here. Bama's defense is much better than UK's. Bama 27 FLA 16. Brandon: Bama 28 FLA 20.
#2 Ohio State Buckeyes 4-0 @ Illinois Fightin Illini 2-1
Illinois plays their third consecutive home game against Terelle Pryor and the Buckeyes. They worked Southern Illinois but nearly fell to Northern Illinois. Both teams open Big Ten play but this game will be much like what Ohio State's has been like thus far ... cake (Miami (FL) exempt). OSU 46 Illinois 16.
Brandon: OSU 42 Illini 21
#3 Boise State Broncos 3-0 @ New Mexico State Aggies 0-3
Boise State will likely make their final trip to Las Cruces as they begin conference play for the last time in the WAC. NMSU can only hope for a drastic distraction for the Broncos. Otherwise, this one won't be close. BSU 58 NMSU 10.
Brandon: Boise State 56 NMSU 10.
GAME OF THE WEEK

Andrew Luck celebrates after he led the Cardinal to upset
#8 Oregon in November last year. He will look to make it
two years in a row.
 #4 Oregon Ducks 4-0 (1-0) vs. #13 Stanford Cardinal 4-0 (1-0)
The Ducks defense got torn apart by ASU quarterback Steven Threet last week. He threw for 387 yards and 3 TD's but his 4 INT's ended up being the difference. In fact ASU led in the passing, running and receiving stats as the Ducks squeaked by with an 11 point win and saw their first competitive game of the season. They had better get ready for Andrew Luck and the rest of the Stanford Cardinal. Luck proved me wrong last week. I picked Notre Dame to upset Stanford and it wasn't even close. LaMichael James still leads the way for Oregon's rushing attack and I do see him having success on the ground in this game. The difference will be Andrew Luck. Looking at film of last weeks game could serve well for Andrew as Threet nearly had his way with the Oregon defense. The difference between the two, Luck doesn't throw interceptions very often. Stanford has five receivers with over 100 yards and Doug Baldwin is the leader with 12 catches for 222 yards. Shoot out alert for both defenses and upset alert for the 4th ranked Ducks. Stanford takes this one. Stanford 38 Oregon 34.
Brandon: Oregon 42 Stanford 28
#5 TCU Horned Frogs 4-0 @ Colorado State Rams 1-3
CSU nearly started 0-4 but barely squeaked past the Vandals of Idaho 36-34. Freshman quarterback Pete Thomas does have some upside and the future may be bright for him. Perhaps the next Bradley Van Pelt. Hosting the fifith ranked school in the country will not be an easy task. We have blowout material here as both schools open MWC play. TCU 48 CSU 12.
TCU 40 CSU 9.
#8 Oklahoma Sooners 4-0 vs. #16 Texas Longhorns 3-1 (1-0) *Neutral Field
The Red River Rivalry actually nearly made it as our GOW for week five. Texas' embarassment to UCLA last week was the deciding factor. Regardless, this should be a good matchup as it usually is. The Longhorns will be looking to bounce back from that blowout at home last week while OU is coming off of two close wins. Cincy gave them all they can bargain for and Air Force put up a fight. In the end I think it's the Sooners that walk away with the victory here. They're just a bit more experienced than Texas. I see another close low scoring contest here. OU 21 Texas 14.
Brandon: OU 28 Tex. 17.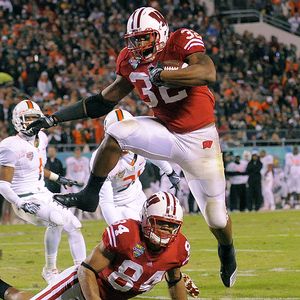 Johnathan Clay will continue piling
up the rushing yards as he try's to
lead Wisconsin over Michigan State.
 #9 Wisconsin Badgers 4-0 @ #21 Michigan State Spartans 4-0
Michigan State will be at home for the fifth straight week and they host the 9th ranked Badgers. Both offenses look even on paper. This game will be entertaining from start to finish. MSU will try to use the crowd to their advantage and I think they need to come out swinging (not literally ... no ejections please) to make a statement at home. Wisconsin is coming off of a 70 point performance against D-I AA Austin Peay. This one had all the makings of being the GOW and it will not disappoint. Could be decided in overtime as well. In the end, I'm going with the Badgers to take this close one. Jonathan Clay and Scott Tolzein seem to have a bit more experience and that can make all the difference in the world in a close conference game. Notre Dame is a team on the rise so they're not really a powerhouse yet, which means this game will be MSU's first test of the season. Wisconsin has proven themselves when they traveled to Arizona State and got the victory there against Steven Threet and company. Badgers hand Sparty their first loss. Wisconsin 17 MSU 13. Brandon: MSU 28 Wisconsin 23.
#10 LSU Tigers 4-0 (2-0) vs. Tennessee Volunteers 2-2 (0-1)
LSU's passing game was ridiculous last week and wasn't really a factor against West Virginia. Stevan Ridley is the reason they won that game. I'd like to say Tennessee's defense could stop them, but they can't. The Vol's have played three D-I A schools so far and beat one of them. They got blown out by Oregon and Florida and needed a couple of overtimes to beat C-USA foe UAB 32-29. The Blazers had 535 total offensive yards in Knoxville. Now they finally go on the road to LSU. Yeah I don't really see any reason to give Tennessee the upset. LSU 38 Ten. 17.
Brandon: LSU 32 Ten 17.
#11 Auburn Tigers 4-0 (2-0) vs. Louisiana-Monroe Warhawks 1-2 (0-1)
ULM is the second Sun Belt team to visit Jordan-Hare Stadium this season. Arkansas State came out with 26 points. South Carolina only put up one more than that last week. However the Red Wolves score was doubled by the Tigers. This game could get ugly early. Cameron Newton could have a career day. UA 52 ULM 10.
Brandon: Aub. 37 ULM 14.
#17 Miami (FL) Hurricanes 2-1 @ Clemson Tigers 2-1
Andre Ellington is filling in CJ Spiller's shoes. He will be a
part of the attack as the Tigers look to upset Miami (FL).

Clemson took Auburn to overtime two weeks ago and fell in OT. Miami is on their third straight road game. Miami just had their way with Pitt on the road and cruised to a 31-3 victory. As they begin the ACC schedule they will see much better competetion on the road. Clemson has a tandem threat at running back. They don't throw it very often but when they do Kyle Parker looks good. Twelve receivers have caught at least one ball and the load is shared very well across the board. Dwayne Allen has the most catches with eight. Clemson doesn't really turn the ball over very often while Miami QB Jacory Harris has just as many INT's as TD's with six a piece. The Canes also have a running back tandem so this could go down to which team has the ball for the last possession. Miami's turnover problems will be the difference in this one. The Tigers take the upset for week five. Clemson 28 The U 23. Brandon: Miami 35 Clemson 27.
#18 Iowa Hawkeyes 3-1 vs. #20 Penn State Nittany Lions 3-1
Penn State had a scare last week to Temple who scored 13 first quarter points. The Lions didn't gain the lead til late in the 3rd when they kicked their fifith field and took the lead 15-13. A 4th quarter touchdown sealed it as they kept the Owls scoreless for three quarters. Iowa shutout Ball State and are getting ready for the visiting Nittany Lions. This is a Big Ten opener for both squads who's offenses are performing pretty well. PSU is led by freshman QB Robert Bolden who looks pretty impressive. Ricky Stanzi and Adam Robinson will teach Bolden a lesson or two as their experience will end up making all the difference. No blowout, but a comfortable win for the Hawkeyes. Iowa 28 PSU 16.
Brandon: Iowa 27 PSU 20.
#19 Michigan Wolverines 4-0 @ Indiana Hoosiers 3-0
Sometimes I forget that Indiana even has a football team. I know that's a little harsh but no one can offer the argument that they're 3-0. The conferences of their opponents are as follows CAA (D-I AA), Sun Belt, MAC. Welcome back to the Big Ten Hoosiers. Where you've done nothing for years. Here comes Denard Robinson to Memorial Stadium to light up the stat sheet and scoreboard (considering his bruised knee in last weeks game is good to go). Mich. 45 IU 13.
Brandon: Mich 42 IU 20.
#25 Nevada Wolfpack 4-0 @ UNLV Rebels 1-3 (1-1)
62 two years ago was the last time the Wolfpack cracked the top 25. Welcome back to the history books and the 21st century UNR. Colin Kaepernick leads his Wolfpack to Sam Boyd Stadium as they take on in state rival the Rebels. UNLV hasn't played well against ranked teams so far this year. Oh yeah and they've already lost to a WAC team this year too. Idaho destroyed the Rebels 30-7. Beating New Mexico 45-10 can't really give you that much confidence either. Nevada will beat their third and last MWC opponent this season proving they do belong in the conference sooner rather than later. UNR 38 UNLV 17. Brandon: UNR 48 UNLV 21.

Jared Tew is the main
weapon for Air Force's
Triple Option.
 NON TOP-25 GAME
Air Force Falcons 3-1 (2-0) vs. Navy Midshipmen 2-1
The battle of the academies in 2010 begins. Air Force's only loss came in Norman when they lost by three to Oklahoma. Navy's lone loss was by the same defecit to Maryland in the season opener. Both teams headline top running games and will look to trump one another in that category. The Falcons however have the edge as they're flat out more talented and execute better than the Midshipmen. Air Force struggled a bit last week in Laramie but I do believe that was a fluke. They've looked solid all year and being at home will be a good boost for them with Navy coming to Colorado Springs. I don't see a blowout but I think AFA will use their home field advantage to their benefit. Navy will get on the board and it will be a close game. In the end Tim Jefferson will lead his Falcons to victory. AFA 28 Navy 17. Brandon: AFA 34 Navy 24.