Only a couple weeks left in the season. I got blown out again. Brandon finished 14-5 (1-1) while I was 11-8 (0-3). By far my worst of the season. I'm actually a little embarrassed. Hopefully something happens in these next couple weeks. But I'll continue to go with my gut. Here's what the standings looks like now. Brandon is 166-37 (7-11) with me at 154-49 (7-18).
My helmet sticker for last week went to Andy Dalton. Amidst all the doubt he was getting from virtually EVERYONE, he went on the road to what was supposed to be a hostile environment in Salt Lake City and threw the ball 26 times with 21 completions. Those passes went for 355 yards and 3 TD's. Brandon is giving away co-helmet stickers again with Brandon Weeden and Justin Blackmon of Oklahoma State getting the honors. Weeden was 34-42 with 435 yards and 3 TD's. Blackmon caught 13 of those passes and had 173 yards with a TD while the Cowboys made Baylor look like the normal team from Waco we're all used to seeing.
South Carolina and Florida have this weeks GOW with Clemson and Florida State getting the NT25 pick of the week.Will an undefeated get beaten? Here are the picks. (For Brandon's picks and opinion on what's going on in the world of sports please visit the following link.
http://thebiznizfiles.blogspot.com/
Friday November 12th 2010
#4 Boise State Broncos 8-0 (4-0) @ Idaho Vandals 4-5 (1-3) 9 PM ET
Vandal fans are hoping they get this one. It's in question as to if BSU and the UofI will continue the rivalry when the Broncos jump to the Mountain West next season. The reason nobody really talks about it that often? Because no one cares. The Vandals are irregardless. Just another W for Chris peterson's Broncos. BSU 48 Idaho 10.
Brandon: BSU 53 Idaho 23.
Saturday November 13th 2010
#7 Wisconsin Badgers 8-1 (4-1) vs Indiana Hoosiers 4-5 (0-5) 12 PM ET
The Hoosiers continue to be win-less in the Big Ten. It's hard for me to believe that they, as an AQ school, have a better shot at the title than Boise State and TCU. The same can be said for the likes of Duke and the entire Big East conference. Anyway, the Badgers have to play them and it won't even be close. They have the Rose Bowl in their foresight and can't afford anymore slip ups. The Hoosiers don't have the ability to do that. Wisconsin 45 IU 17.
Brandon: Wisc. 35 IU 21
#13 Iowa Hawkeyes 7-2 (4-1) @ Northwestern Wildcats 6-3 (2-3) 12 PM ET
The Hawkeyes nearly saw their Big Ten title hopes fall when they held off the Hoosiers of Indiana 18-13 on the road last weekend. Now they're still alive in the run for the Rose Bowl. Dan Persa is doing great things for Northwestern, but the Wildcats just can't seem to be an elite in the conference just yet. A win year would fill the gap a bit in the standings. Persa is dangerous and could give Iowa a scare. The Hawkeyes D has been inconsistent at times shutting teams out but allowing 31 points other times. I like Ricky Stanzi and Adam Robinson, but I'm going with the upset here. And good thing since it's desperation time for me to catch up to Brandon. In all honesty, I think Dan Persa will surprise a lot of folks. NW 31 Iowa 28.
Brandon: Iowa 35 NW 24.

The Tigers hope to reach
the Big XII title game.
#17 Missouri Tigers 7-2 (3-2) vs #24 Kansas State Wildcats 6-3 (3-3) 12:30 PM ET
The Tigers thought they had a shot at the BCS title this year ... that was before they lost two consecutive road games to #14 Nebraska and unranked Texas Tech. Another loss and they can nearly kiss their Big XII title hopes goodbye. Even if they win out, Nebraska has to lose and looking at their schedule I doubt that happens. Mizzou is definitely staring a disappointing end to this season in the face as the Wildcats come to Columbia. KSU has shown some promise but face their fourth ranked opponent this season. (BU was ranked, and UCF wasn't at the time but they are now. Add them all and it's 5). I like this to be a competitive game. Look for Dan Thomas to lead the Wildcat offense but I see Blaine Gabbert and Mizzou coming out on top. Mizzou 28 KSU 26. Brandon: Mizzou 34 KSU 28.
#14 Utah Utes 8-1 (5-1) @ Notre Dame Fighting Irish 4-5 2:30 PM ET
The Utes proved last week how overrated they really are. They also proved that strength of schedule really does play a huge factor. That's why I think TCU gets the title over Boise State but that's a topic I'll leave to the world wide leader. Utah's running game was shutdown against TCU and they weren't able to get anything done. Manti Te'o of Notre Dame will lead his defense and try to do that. However, I don't think they have enough talent on defense. Nor do I think the Irish have enough talent on offense to get anything done either. Maybe if Dayne Crist was healthy, but that's a maybe. The Utes won't blowout ND, but they do get the win in South Bend. Utah 30 ND 20.
Brandon: Utah 35 ND 20.
#2 Auburn Tigers 10-0 (6-0) vs Georgia Bulldogs 5-5 (3-4) 3:30 PM ET
Cam Newton was another QB who shined amidst alot of doubt and negativity. But, Auburn was playing Chattanooga. I don't necessarily think Georgia is all that good (their record attests to that) but I still see Newton with a huge day. Nobody can stop him. The Tigers look forward to the Iron Bowl as they cruise to victory over the Bulldogs. UA 45 UGA 23.
Brandon: UA 37 UGA 20.
Terelle Pryor wants the Big Ten
championship. Will it be enough
to get to the BCS title?

#3 Ohio State Buckeyes 8-1 (4-1) vs Penn State Nittany Lions 6-3 (3-2) 3:30 PM ET
Sure the Lions got to bask in JoePa's 400th win. But there's still more 2010 football to be played. How sweet would that be to upset the Buckeyes on the road? But yeah that's not going to happen. Terelle Pryor has the Rose bowl in his foresight and slipping up is not something he wants in his resume right now. He still wants to make his statement for the Heisman too. Perhaps a one loss Buckeye team can surpass TCU and Boise in the standings? I doubt that, but it's a nice debate. Actually I'm giving the Buckeyes defense the reason of victory in this one. Or perhaps the youth of Penn State's offense. Robert Bolden will do good things for JoePa in the coming years. The future is bright for PSU but I'm not going with them for this one. OSU 34 PSU 20. Brandon: OSU 36 PSU 21.
#16 Oklahoma Sooners 7-2 (3-2) vs Texas Tech Red Raiders 5-4 (3-4) 3:30 PM ET
How bout the Raiders with the solid victory over the Tigers? Very impressive. Although their black camo jerseys were ridiculously disgusting (that goes for Utah too). I'm not quite sure Tech can take that momentum into Norman and get the upset. It should be a close one though, with the home team Sooners coming out on top. OU 31 TTU 27.
Brandon: OU 37 TTU 28.
#20 Virigina Tech Hokies 7-2 (5-0) @ North Carolina Tar Heels 6-3 (3-2) 3:30 PM ET
The Hokies continue to roll and remain undefeated in the ACC. They have a two win lead on Miami (FL) and these UNC Tar heels for first place in the Coastal division. Poetically, after the heels, they travel to Coral Gables to face the 'Canes. Pressure is on in Chapel Hill. VT doesn't want to remember the loss to James Madison. Winning the ACC will help them do that. The Tar Heels had the solid two point victory over Florida State last week on the road and they hope to bring that momentum home. I like this game to be a thriller with the Hokies coming away with the win. Perhaps in OT. TJ Yates needs a big game and UNC's defense has to stop this insane rushing attack. That is the difference. Look for a shootout and Tech getting the victory to clinch their spot in the ACC title game. VT 41 UNC 38.
Brandon: VT 34 UNC 24.
#3 TCU Horned Frogs 10-0 (6-0) vs San Diego State Aztecs 7-2 (4-1) 4 PM ET
The Aztecs are definitely a team on the rise. Their only two losses this season were by three points each. Both were on the road at Missouri and BYU. Brady Hoke has this team on the right track. But don't think for a second that I'm going to pick them to upset TCU. This one won't be a three point victory either. These Frogs are for real. No one can question that now after their demolition of then #5 Utah. Watch out Aztecs. Andy Dalton is in the house. TCU 38 SDSU 10.
Brandon: TCU 39 SDSU 15.
#5 LSU Tigers 8-1 (5-1) vs Louisiana-Monroe Warhawks 4-5 (3-3) 7 PM ET
LSU has proven me wrong all season long. Clearly one of the best teams in the nation. They lack one premier play maker. Nobody stands out. The epitome of a team. I am impressed and will no longer disrespect them this season (now that it's over in two weeks). Here is another bye week for them also. Big win. LSU 58 ULM 17.
Brandon: LSU 45 ULM 14.
#8 Nebraska Cornhuskers 8-1 (4-1) vs Kansas Jayhawks 3-6 (1-4) 7 PM ET
NU had a scare last week at Iowa State. Iowa State? Really? Lets hope that's a fluke as Kansas comes to town. Another loss will put them at a tie with Missouri for the Big XII North. I don't see that happening this week though. The Jayhawks are just flat out terrible. Their BCS run a few years ago was a fluke. They're back to normal. Basketball is definitely king. Big win for the Huskers. NU 38 KU 7.
Brandon: NU 38 KU 10.
#15 Arkansas Razorbacks 7-2 (4-2) vs UTEP Miners 6-4 (3-4) 7 PM ET
Arkansas' Big XII title hopes may be shot but they can still tie for second in the West. However, that will have to wait til they play LSU. They have UTEP this week on ESPNU. Not really much to say about this game. Its clear what the outcome will be. UTEP has a decent quarterback in Trevor Vittatoe, but that's about all they have. This will be a bye week for the Razorbacks. Ark. 34 UTEP 13.
Brandon: Bama 45 UTEP 21.

Jay Finley will help the Bears
recover from the big loss to
OSU.
#25 Texas A&M Aggies 6-3 (3-2) @ Baylor Bears 7-3 (4-2) 7 PM ET
Baylor looked much like the team we know them as last week. What happened Bears? Perhaps Oklahoma State is just that good. That could have been the Big XII South championship game too. Both Baylor and the Aggies are hoping the Cowboys lose out. That still gives them a shot to win second place (and don't forget about OU who is still in the hunt for the South with two losses of their own). But, this game has to be played first. I wasn't really sold on A&M until Jerrod Johnson got benched. Ryan Tannehill is clearly the better QB and it's showing in the performance of the team. No one expected them to upset the Sooners. This should be a solid game but I'm taking the upset. The Bears are at home and will rebound after their blowout loss. They will knock TAMU off the high horse beating Oklahoma put them on. BU 28 TAMU 17. Brandon: BU 33 TAMU 30.


#12 Alabama Crimson Tide 7-2 (4-2) vs #19 Mississippi State Bulldogs 7-2 (3-2) 7:15 PM ET
Solid SEC match up. Where have the Bulldogs been? I can't remember the last time they had only two losses at this point in the season and were ranked. Good for MSU. I like this to be a dog fight (no pun ... please). The Tide have proven they're vulnerable but still have the talent to prove they can be elite. Although their hopes of defending their BCS title are out the window. I like the Tide in a close victory. They just have more talent than MSU and that will be the deciding factor. Not who makes what mistakes, it's all about the talent in this one. BAMA 26 MSU 19. Brandon: Bama 28 MSU 23.

Can the Gamecocks reach the SEC title game? Florida may
stand in their way.
 GAME OF THE WEEK
#22 Florida Gators 6-3 (4-3) vs #23 South Carolina Gamecocks 6-3 (4-3) 7:15 PM ET
Consider this the play-in game for the SEC title game. This could very well decide the East Champion in the conference. What a beauty it will be. Not quite sure what happened to the Cocks against Arkansas. They didn't even show up. Lost by three touchdowns. Bouncing back with a victory in the swamp will not be an easy task. Yes Florida isn't the Florida we've known lately, but they still have Urban Meyer. Having said that, I'm going with the talent factor again. SC I think has more talent than the Gators and I believe that will lead them into the SEC title game. Expect a fight, but Stephen Garcia and Marcus Lattimore trump John Brantley and Jeff Demps. Sorry Gator fans. SC 24 UF 20. Brandon: UF 34 SC 29.
#1 Oregon Ducks 9-0 (6-0) @ California Golden Bears 5-4 (3-3) 7:30 PM ET
Does anybody think the Ducks are going to lose at all this season? I stated weeks ago Oregon was going to win out. I have no reason to think they will come close to losing. Not even the Civil War. It's hard for me to believe that Washington State held them to their least points of the season. And that was 43. This team is ridiculous. Could be the most dominant college football team ever. Ducks fly (together) in this one...again. Oregon 54 Cal 16.
Brandon: Ore. 51 Cal 20.
#6 Stanford Cardinal 8-1 (5-1) @ Arizona State Sun Devils 4-5 (2-4) 7:30 PM ET
Tough loss last week for the Devils. Couldn't quite get the upset in SoCal. Coming home to host Stanford won't be easy either. Andrew Luck is just too powerful for this team. I'm not sure that there's much else I can say. The Cardinal wins this one comfortably. Stanford 34 ASU 17.
Brandon: Stanford 42 ASU 16.
#10 Oklahoma State Cowboys 8-1 (4-1) @ Texas Longhorns 4-5 (2-4) 8 PM ET
Texas is just a bad team. Does anyone remember the last time they lost three in a row? How bout the last five of six? Ouch. I'm still having a hard time believing how they beat Nebraska. I just don't get it. I'm not sure I see them getting the upset here. OSU is looking for the Big XII title and potentially a BCS birth. I'm not sure I see the Longhorns standing in their way. Even though the game is played in Austin, Texas just isn't a good team in 2010. Home field advantage may give them some momentum throughout the game, but that's about it. OSU 27 UT 20.
Brandon: OSU 37 UT 32.
#18 Arizona Wildcats 7-2 (4-2) vs USC Trojans 6-3 (3-3) 8 PM ET 8 PM ET
What do the Trojans have to play for? Everyone knows Oregon is going to win the Pac-10 anyway. The Trojans do still have talent on their team despite their inability to reach a bowl game. And their not just going to give up as we can all see with their six wins. I actually like them in this match up against Arizona. The Wildcats are good don't get me wrong, but they've struggled against every California team this season. Sure they beat Cal and UCLA, but neither of them are great and Stanford blew them out. I like this to be another dog fight but I give the nod to Matt Barkely's crew at home. USC 27 Arizona 25.
Brandon: Zona 30 USC 27.
Kyle Parker is hoping
some dominoes fall and his
Tigers can win the ACC.

NON-TOP 25 GAME
Clemson Tigers 5-4 (3-3) @ Florida State Seminoles 6-3 (4-2) 8 PM ET
Should've gone with my gut last week. Wanted to pick Clemson. I didn't, therefore I lost. The ACC Atlantic is already intresting with FSU, UMD and NCSU with two losses tied for first. Could you imagine if Clemson pulled this one off? Does it even matter? Is anyone in the conference going to beat Virginia Tech? I don't know what's wrong with the Seminoles right now. They've lost two straight games to NCSU and UNC. They have no momentum and need a solid win if their going to make it to the ACC title game. I'm going with the upset. Christian Ponder hasn't really had the season everyone expected. Clemson has nothing to lose right now, oh except their bowl eligibility. One more win gets them that and they are hot. This game is all about momentum and look for solid performances from Andre Ellington and Kyle Parker. Clemson 27 FSU 23. Brandon: FSU 38 Clemson 28.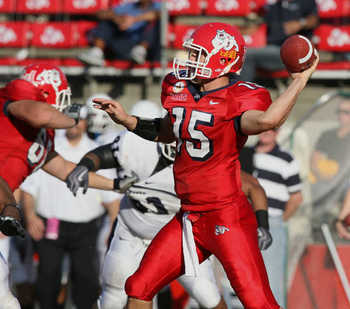 Ryan Colburn's Bulldogs are flying
under the radar in the WAC. Can they
win the conference?

#21 Nevada Wolfpack 8-1 (3-1) @ Fresno State Bulldogs 6-2 (4-1) 10:30 PM ET
Nevada's season was let down when they lost to Hawaii. They jumped the gun and started calling out Boise State as I've mentioned before. So I have reason to think they'll over look this one. Colin Kaepernick is a solid quarterback, but he's the only weapon the Wolfpack really has offensively. Fresno State has always been a decent team. I see them being a semi giant killer here. Either way the three way tie for second ends here with just two remaining. I'm going with Ryan Colburn's Bulldogs in the close upset. Can anyone beat Boise? FSU 37 UNR 35.
Brandon: UNR 41 FSU 27.