If I was going to catch up to Brandon, last week would have been the time to do it. He finished the week 13-7 (1-4). But I didn't trust my gut with Oregon State, I ate my words saying the FSU/Miami (FL) game wouldn't be a blowout ... it was, but not for my pick, and USC couldn't hang on to beat Stanford. I finished the week 12-8 (0-3). I'm digging myself further in the whole. That puts Brandon at 108-16 (4-7) and me at 99-25 (3-11). Ouch. Lets hope I can switch gears for the second half of the season. My helmet sticker for week 6 goes to Taylor Martinez. I almost went with Cam Newton of Auburn again, but Martinez's Huskers played a 4-0 Kansas State team and embarrassed them in front of their home crowd 48-13. Taylor threw the ball 7 times. He completed 5 of those passes for 128 yards no TD's and 1 INT. That doesn't look that great until I tell you he ran the ball 15 times for 241 yards and 4 TD's. Incredible performance for Taylor Martinez. Brandon also had a rough time giving his helmet sticker away but decided on Andrew Luck of Stanford. Andrew threw 24 passes and completed 20 of them for 285 yards and 3 touchdowns. He also ran it 6 times for 40 yards and the Cardinal were able to beat USC on a last second field goal.
We finally have a new number one team this week. There are a lot of solid conference matchups too and several potential upsets. (That I will pick incorrectly of course.)
Thursday October 14th, 2010
#25 West Virginia Mountaineers 4-1 vs. South Florida Bulls 3-2 (0-1) 7:30 PM ET
USF's record may look better than they really are. They lost to Syracuse last week. That should speak for itself. (No one can argue. Yes the Orange are 4-1 but that doesn't look good when their other wins are Akron, Maine and Colgate). They got blown out by Florida a week after they blew out Stony Brook. The other two wins took place against Sun Belt teams WKU and FAU. The Hilltoppers hung with them but lost 24-12 and the Bulls had no problems against the Owls. WVU now represents the Big East in the national spotlight being the only ranked team from the conference and I don't see why they shouldn't be after this game. WVU 31 USF 10.
Brandon: WVU 35 USF 16.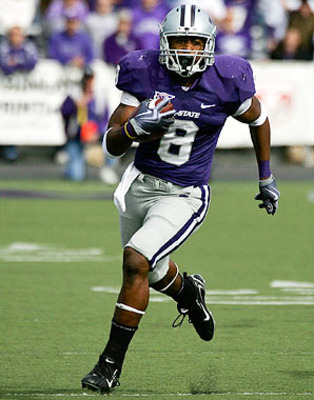 Daniel Thomas' running
abilities are KSU's main
offensive threat.
 NON TOP25 GAME
Kansas State Wildcats 4-1 (1-1) @ Kansas Jayhawks 2-3 (0-1)
K-State got exposed greatly on Thursday last week against Taylor Martinez and the Nebraska Cornhuskers. Now they face in state rival Kansas and hope to rebound from that blowout loss. The Jayhawks have been inconsistent this year. They lost 6-3 to North Dakota State in week one then regrouped to upset then #15 Georgia Tech 28-25 the following week. Since then they lost to Southern Miss and Baylor on the road while beating New Mexico State at home. Hosting the Wildcats for the "Battle of the Governers Cup" may not be an easy task. Even though KSU got destroyed last week I see them getting things done offensively. I doubt Kansas has two players rush for 241 and 110 yards. The Jayhawks don't have the defense to stop Daniel Thomas on the ground and that should open up the air for Carson Coffman. K-State improves to 5-1. KSU 34 KU 17. Brandon: KSU 27 KU 21.
Saturday October 16th, 2010
#11 Michigan State Spartans 6-0 (2-0) vs Illinois Fighting Illini 3-2 (1-1) 12 PM ET
The Fighting Illini had a stunning blowout victory in Happy Valley over a struggling Penn State team in week six. Hopefully they can bring that momentum to Spartan Stadium. Michigan State had a convincing win over Michigan as they shut down Heisman candidate Denard Robinson. Kirk Cousins was on his game when the Wolverines came to town as they rolled to a 34-17 victory. This could be a long day for Illinois. PSU is having a down year so don't plan on them getting an upset two weeks in a row in Big Ten play. Sparty cruises and may find themselves in the top ten. MSU 44 Illini 20.
Brandon: MSU 41 Illini 17.
#17 Florida State Seminoles 5-1 (3-0) vs. Boston College Eagles 2-3 (0-2) 12 PM ET
FSU made up for their embarrassing blowout loss to Oklahoma in week two by doing the same on the road to the Hurricanes of Miami (FL). That game wasn't even close. The Seminoles offense is firing on all cylinders since the OU game. They've scored at least 31 points in each of the four games since. BC is struggling this year and is on a current three game losing streak. They must bring their A game to Doak Campbell Stadium but that may be wishful thinking for Eagles fans. FSU is hot right now led by senior quarterback Christian Ponder. I don't see a slip up happening here. FSU 37 BC 14.
Brandon: FSU 43 BC 21.

Jerrod Johnson will look to
solve his INT problems as
the Aggies host Mizzou.
 #19 Missouri Tigers 5-0 (1-0) @ Texas A&M Aggies 3-2 (0-1) 12 PM ET
Mizzou finally leaves Faurot Field and travels to College Station. They've looked very impressive so far this season. Blaine Gabbert has completed 120 of 180 passes. That is their forte and they will will look to use that weapon on the Aggie defense. A&M is coming off of two close losses. Jerrod Johnson's passing numbers are great just like Gabbert's except Johnson can't stop throwing INT's. He has 9 so far this season. Christine Michael provides a nice safety valve on the ground for Jerrod. I like this matchup and I like the Aggies to pull the upset. Missouri hasn't really proven themselves against a solid opponent. Squeaking by San Diego State by three isn't exactly what you like to see on your resume. Even if SDSU is on the up rise. Leaving home to face a balanced offensive attack will be too much of a feat for the Tigers to accomplish right now. I like the Aggies in this one. TAMU 28 Mizzou 24. Brandon: Mizzou 34 TAMU 30.
#4 Nebraska Cornhuskers 5-0 (1-0) vs Texas Longhorns 3-2 (1-1) 3:30 PM ET
After the embarrassing loss to UCLA at home the Longhorns played well in the Red River Rivalry but fell short 28-20. The Huskers had the huge blowout win on the road at KSU. Taylor Martinez led the way as he's done all year and he won't show any signs of stopping. I like this game to be competitive but Nebraska will be too much for Texas to handle. With all due respect to Mack Brown I don't think the Longhorns have enough to handle this one. Plus, NU will be looking for revenge from last years controversial Big XII title game. NU 31 Texas 21.
Brandon: NU 36 Texas 17.

Cam Newton will try to help his Tigers improve to 7-0.
GAME OF THE WEEK
#7 Auburn Tigers 6-0 (3-0) vs #13 Arkansas Razorbacks 4-1 (1-1) 3:30 PM ET
What a match up we have here. It's the Cam Newton vs Ryan Mallett show. The Tigers return home after their victorious trip to Kentucky. They won on a last second field goal. Arkansas defeated Texas A&M by a touchdown. I hate this pick because I love both quarterbacks and I want to see both schools do well in the SEC. I must get over it and pick my victor. This one has all the necessary factors to be a thriller. It could go down to which QB is on the field for the final series. Ryan Mallett will show his NFL worth with his huge decision making abilities and arm strength. I'm going with the mobile quarterback in this one. Cam Newton is just too dangerous and I feel that Auburn just has a few more weapons than the Razorbacks. Don't be surprised to see Arkansas pull it off, but I'm going with Auburn. UA 27 Ark 24.
Brandon: Ark. 28 Aub 23.

Rich Rod's Wolverines look to avoid
their second consecutive loss.
 #14 Iowa Hawkeyes 4-1 (1-0) @ #25 Michigan Wolverines 5-1 (1-1) 3:30 PM ET
Denard Robinson was completely shutdown by instate rival Michigan State last week. He will show is true Heisman colors this week whether he can rebound, and I do believe he can. Iowa does have a powerful offense led by Ricky Stanzi and Adam Robinson but they've not seen a guy like Robinson yet. The only other road game they've had they lost to Arizona. Not sure if that has anything to do with it but regardless Denard will want revenge and also put hope back in his Heisman run. Iowa is the next opponent on the schedule so watch out Hawkeyes. Rich Rod's Wolverines come away with upset number two of the week. Michigan 35 Iowa 21. Brandon: Iowa 30 Mich 24.
#18 Oklahoma State Cowboys 5-0 (1-0) @ Texas Tech Red Raiders 3-2 (1-2) 3:30 PM ET
I'd hate to see Texas Tech get their third loss in four weeks, only because I've always been a fan of their offense. Taylor Potts is a stud, but I don't think they have enough weapons to matchup with the Cowboys. The Raiders will have to shut down both Brandon Weeden and Kendall Hunter. Even though Justin Blackmon is OK ST's top receiver, just shutting him down won't be enough. His fellow corps are more than capable of picking it up if they need to. This offense is just too powerful. Look for a shootout. OSU 48 TTU 38.
Brandon: OSU 40 TTU 24.
#5 TCU Horned Frogs 6-0 (2-0) vs. BYU Cougars 2-4 (1-1) 4 PM ET
The Horned Frogs are picked to win this game by four touchdowns, and rightfully so. BYU is having one of their worst seasons in school history. Even though they snapped a four game losing streak with a win over San Diego State, traveling to Fort Worth will not be an easy task. TCU is competing with Boise State (and perhaps Utah if they can crack the top 5) for a BCS bowl bid and possibly a BCS title game bid. BYU's defense did look better as Bronco Mendenhall took over for ex D-Coordinator Jaime Hill, I still don't think they'll have enough to pull the upset. TCU 48 BYU 27.
Brandon: TCU 34 BYU 17.
#12 South Carolina Gamecocks 4-1 (2-1) @ Kentucky Wildcats 3-3 (0-3) 6 PM ET
The Wildcats have lost three straight and they've all been to SEC opponents. They hung with Ole Miss and Auburn but fell short by a total of 10 points. They will try to knock off the number one killers. The Gamecocks are in town and UK is hoping they'll be able to knock them off of their high horse. I think Steve Spurrier is smarter than that. He'll make sure his team is ready to play. True freshman Marcus Lattimore is just ridiculous. UK could put up another fight but they will lose their fourth straight. SC 27 UK 17.
Brandon: SC 33 UK 23.
#10 Utah Utes 5-0 @ Wyoming Cowboys 2-4 (0-2) 6 PM ET
The Utes likely make their final trip to Laramie to face Wyoming one last time before they move to the Pac-12. There's not really much good to say about the Cowboys. This game won't be close starting from the kickoff. Utah hopes to move up in the rankings as they light up the scoreboard yet again and score every possible way they can. Sorry Utes, the team you beat last week is better than this one. There's not much you can do about that. Just keep winning and things will work themselves out. That's all you can do. Utah 59 Wyoming 10.
Brandon: Utah 45 UW 20.
Jim Tressel's Buckeyes
find themselves atop the
polls once again.

#1 Ohio State Buckeyes 6-0 (2-0) @ #16 Wisconsin Badgers 5-1 (1-1) 7 PM ET
Welcome to the number one ranking in America Buckeyes. Your debut is aired on ESPN in 3D. This game was our runner up for GOW and rightfully so as it should be entertaining. Both teams have explosive offenses. The Badgers fell to the only other ranked opponent on their schedule, that being Michigan State and other than that game the schedule hasn't really been all that tough. Other than the one point win over Arizona State they haven't really been challenged. Plus, ASU isn't that good. They may be at home this week but hosting Terrelle Pryor won't be easy. They'd better be ready for this huge attack OSU has. I like this one to be competitive but I see OSU just making a few more plays than Wiconsin and that will be the difference. OSU 24 Wisconsin 20. Brandon: OSU 34 Wisc 21.
#6 Oklahoma Sooners 5-0 (1-0) vs Iowa State Cyclones 3-3 (1-1) 7 PM ET
ISU gave up 68 points at home to Utah last week and the Sooners are coming off of a bye after they beat Texas 28-20. I don't really see much difference for the Cyclones. They remain among the worst of the Big XII and I don't really see that changing any time soon. Even when the conference is trimmed from twelve to ten members next year. Landry Jones and Ryan Broyles will lead the Sooners to bowl eligibility lighting up the scoreboard and stat sheet like the way the Utes did. OU 54 ISU 17.
Brandon: OU 48 ISU 24.
#9 LSU Tigers 6-0 (4-0) vs McNeese State Cowboys 2-3 (1-1) 7 PM ET
LSU is 6-0 because of a lucky bounce on a fake field goal last week. Great idea ... executed poorly and it still worked out. Sometimes it's better to be lucky than good. Having said that, the Tigers did look decent in their close win over Florida. LSU plays their third non-conference game of the year as they host McNeese State and it will get them to 7-0 easily. LSU 44 MSU 6.
Brandon: LSU 39 MSU 6.
#22 Florida Gators 4-2 (2-2) vs Mississippi State Bulldogs 4-2 (1-2) 7 PM ET
I didn't do my research but I'm pretty sure Urban Meyer has never lost three consecutive games. It's even rare for one of his teams to lose three in a season. MSU has lost to every ranked opponent they've played and even though I think they have a bright future, I don't see them giving UF the second straight upset in the swamp. Urban will have none of that. Florida gets the victory. FLA 26 MSU 13.
Brandon: FLA 27 MSU 17.
#20 Arizona Wildcats 4-1 (1-1) @ Washington State Cougars 1-5 (0-3) 7:30 PM ET
The Wildcats were enjoying being in the top ten. Oregon State spoiled that and now they find themselves one loss away from being unranked. Wazzu hasn't beaten a D-IA school yet and beat Montana State by one point. None of their other games have been close at all. Arizona will rebound after the tough loss to OSU with a big win over WSU. Arizona 45 WSU 17.
Brandon: Ariz 42 WSU 24.

Titus Young will help BSU
make their statement to play
for the BCS Title
 #3 Boise State Broncos 5-0 (1-0) @ San Jose State Spartans 1-5 (0-1) 8 PM ET
The Broncos made some headlines this week when the mock BCS standings released. If they were officially released last week, Boise would have been in the number one spot. That's what they're hoping for by season's end as they aspire to play for a National Title. Playing SJSU may not help them reach that goal as they help Boise's strength of schedule take a dive. San Jose State continues their toughest schedule in the country as they face their fifth ranked opponent and fourth in the top 15. This however is their first home game against a ranked opponent. They could use whatever home field advantage they have ... if they had it. The Spartans haven't scored more than sixteen points in any game yet. Even in their victory over D-I AA Southern Utah. Boise State fans are loving the attention the school is getting after from the BCS mock standings. The Broncos will be looking to build from that as they do all they can to prove they belong atop that poll. A blowout here is all they can do in their power to influence that. And they will. BSU 58 SJSU 13. Brandon: BSU 48 SJSU 17.
#23 Air Force Falcons 5-1 (3-0) @ San Diego State Aztecs 3-2 (0-1) 8 PM ET
SDSU lost their second game of the year nearly by three points again as they fell on the road at BYU. Brady Hoke will make sure he has his team focused as they host their first ranked opponent in the Air Force Academy. AFA is looking very impressive so far in 2010. Their only loss was by a touchdown on the road at Oklahoma and they lead the nation in rushing. The Aztecs gave up 271 rushing yards last week to a disappointing BYU team. Ryan Lindley is doing good finding his receivers and could see some success but I don't see this game being close. Air Force cruises to a 4-0 MWC record. AFA 34 SDSU 21.
Brandon: AFA 35 SDSU 28.
#8 Alabama Crimson Tide 5-1 (2-1) vs Mississippi Rebels 3-2 (1-1) 9 PM ET
The Tide are still in the top ten after their loss to South Carolina as well they should be. They are still among the best and have one of the most talented offenses in the nation. Jeremiah Masoli and the Rebels will try to give them a second consecutive loss. Uh uh ... NOT happening. Sure Masoli could lead their offense on a couple successful drives but Bama still has a shot to defend their SEC and BCS titles. That is not out of the question and Nick Saban will make sure his players know that. It's time to rebound and continue conference play and it will continue with a comfortable victory. Bama 41 Ole Miss 21.
Brandon: Bama 32 Ole Miss 14.
#21 Nevada Wolfpack 6-0 (1-0) @ Hawaii Warriors 4-2 (2-0) 11:30 PM ET
Hawaii is off to an alright start in 2010. They've been scoring a lot of points and that's led them to a 4-2 record. They hung with USC in the opener but had a melt down at Colorado and their schedule since the CU game hasn't been so great. They lost to another top tier WAC school in Fresno State and they're hoping to use their big time passing game to win over Nevada. Both teams have their own unique offenses. Hawaii's always been known for their passing game and Nevada has Colin Kaepernick. Enough said. Beware a shootout people. This one could be in the hundreds ... but I do not see the Warriors being able to pull the upset. It won't be a blowout but not necessarily decided in the last two minutes. UNR 52 UH 41.
Brandon: UNR 44 UH 14.