Since 1896 the University of Utah and Brigham Young University have played each other every year in football (exempting the war years) and they've played each other every year in basketball since 1922. (BYU was known as the Brigham Young Academy aka BYA until 1922). Their rivalry is known as the Holy War and is one of the most bitter rivalries in all of college sports. This last summer it became even more bitter.

Andrew Bogut was the #1
overall pick in the 2005 NBA
draft.
Urban Meyer began the Utah
football legacy and their jump
to the Pac-10 may have been
triggered from his coaching
tenure.
Utah has a storied basketball program reaching many NCAA tournaments, 15 sweet sixteen appearances, 4 elite eight appearances, runner up in 1998 and were tournament champions in 1944. (They were in the final four when Don Haskins coached Texas-Western to a championship. The first time a single team started and played only black players. Texas Western is now known as UTEP). Until recently, Utah basketball has been top notch. The football program didn't leave much of a dent on the national radar until 2003 and have remained there since. They've reached two BCS bowl games, being victorious in each of them. The Utes were the first team from a non automatic qualifying conference to reach a BCS bowl and also to win a BCS game. They are the original "BCS Busters". Their last bowl loss was in the 1996 Copper Bowl to Wisconsin. That puts them at nine consecutive bowl wins. In 2005 Utah became the only school who's athlete was selected number one overall in both the NFL and NBA drafts in the same year. Now, the school moves away from the Mountain West Conference and mediocrity, to the Pacific 10 (soon to be Pacific 12) conference and the big time.
Lavell Edwards put BYU
football on the map and has
since had the stadium named
after him.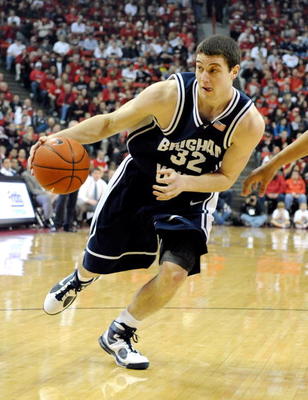 Jimmer Fredette led BYU to
it's first NCAA tournament
victory since 1993.
BYU's basketball program hasn't really had many great moments known nationally. The most prestigious moment in BYU basketball history happened against the University of Notre Dame in the 1981 Sweet 16 when Danny Ainge went the length of the court in just seconds to lay the game winner in the basket. That would be the last time the Cougars would reach the Elite Eight. Since then, they've only had five first round victories in the big dance, and they just recently snapped a seventeen year drought reaching the second round for the first time since 1993. Coach Dave Rose has led them to five consecutive 20+ plus win seasons for the first time in BYU history. Last year they won 30 games for the first time ever. The Football team used to be known as QBU, having several All-American quarterbacks, one of them winning the Heisman Trophy in 1990. They also won a National Championship in 1984. From 2006-2009 they were one of five schools who had 10 or more wins each of those four seasons. Starting in 2011 the basketball team will compete in the West Coast Conference while the football team leaves the Mountain West Conference to be Independent.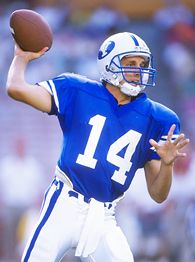 Ty Detmer won the 1990
Heisman Trophy and set
several NCAA records.
Alex Smith used his arm and legs to
lead the BCS Busting Utes. He was
the #1 overall pick in the 2005 NFL
Draft.
In football Utah leads the head to head series 53-34-4 with Utah hosting the game 57 times. The two schools didn't start rotating it between stadiums until 1965 ('72 and '73 were both in Salt Lake while '74 and '75 were both in Provo). Before then, Utah hosted it 34 of the 45 years. BYU only beat them five times during that stretch. Since they started rotating every year BYU has won 29 of the 45 games with their longest streak being nine years from 1979-1987 and 19-2 from 1972-1992. BYU's football program was more prestigious than that of the Utes for a long time. When LaVell Edwards retired from Brigham Young, that's when things started to change. Gary Crowton took over for him and he went 1-4 against Utah and watched them bust the BCS in 2004 coached by Urban Meyer. The Utes busted the BCS again in 2008 with a BYU alum Kyle Whittingham at head coach. That year, BYU head coach Bronco Mendenhall started a slogan in the preseason entitled "The Quest For Perfection" as the Cougars were expected to be the top potential BCS Buster that year. Utah poetically lived up to that Quest while BYU ended with two losses. Since 2003 Utah is 69-19 while BYU is 58-29. Cougar fans aren't used to seeing the Utes competing with them on the national radar like that. In basketball the two schools are even at 125 a piece. Since 2003 BYU is 157-68 while Utah is 135-91. Similar to football, Utah fans aren't used to BYU competing with Utah's storied basketball program. Currently in football Utah is 6-0 (2-0) and is looking like they may make another BCS run. BYU is off to it's worst start since 1973. They're 2-4 (1-1) and hoping they can stay alive and make a bowl game. The Mountain West basketball preseason standings came out this week that featured BYU at number two with Utah at number six. BYU's All American Point Guard Jimmer Fredette was named the preseason conference MVP. The two sports are reversing rolls ... something the history of this rivalry hasn't seen.
This bitter rivalry will see something it hasn't in it's history. Next year kicks off (and tips off) a new era in the Holy War. For the first time ever the schools won't be in the same conference. There has been much grumble among Utah fans saying they wish to never play BYU again, thinking they're superior. While Utah made the jump to the Pac-10 (soon to be 12) that left BYU fans wondering what was going to happen. They were nervous about being left behind and some just had sour grapes. With the movement to the WCC, Independence and the Pac-10, they will both be getting more exposure than they've ever had from TV deals etc... The Pac-10 has a contact with Fox Sports Network and BYU landed an eight year contract with ESPN. Utah though, is clearly in the better situation and their movement triggered the move made by BYU. It seemed inevitable.
Why would anyone think these changes would desecrate this rivalry? Recently it was announced that the football teams will play each other the next two years in September rather than the last game of the year (which will be odd to see), and the basketball teams will be playing each other just once a season the first weekend in December for the next four years. Atheltic directors Chris Hill of Utah and Tom Holmoe of Brigham Young both know what this rivalry means to the state of Utah and to the fans of both schools. Regardless of what anyone may say, the Holy War lives on (these schools love to hate each other making almost nothing "Holy" about it). No matter who has had the better run nationally, when it comes to the match up, it can swing either way. These schools need each other. These fans need each other. This war won't be much of a war without them. The future of this rivalry is bright, even with these changes. It will provide a new fire for both schools. Even though some may wish for it to end, deep down we all know the war must remain, and remain it will.
To view BYU's 2011 football schedule click
here!
. For Utah's click
here!
.