I'm still getting haunted by picking the wrong upsets. In week five I went 12-3 (0-2). Doesn't look too bad until we put Brandon's numbers up next to it. He was a perfect 15-0 (1-0). That puts him at 95-9 (3-3) total for the season. I'm at 87-17 (3-8). I'm getting blown out this season. Looks like I'm gonna need to recover slowly. Dig myself out of the whole. My helmet sticker for last week goes to LaMichael James of Oregon. He ran the ball 31 times and had 257 rushing yards while scoring 3 touchdowns as the Ducks destroyed Stanford 52-31. James shut me up for sure. Brandon went with Denard Robinson, no surprise as he's leading the Heisman race. He'll probably find himself with the helmet sticker a few more times before the end of the season. Last week he threw the ball 16 times, completing 10 of those passes for 277 yards and 3 touchdowns. He also ran the ball 19 times for 217 yards and 2 touchdowns as the Wolverines defeated the Hoosiers. (To see Brandon's picks and other sports opinons etc visit his site
http://thebiznizfiles.blogspot.com/
. His post last week regarding LeBron James and the "race" thing was excellent. I highly recommend it).
Week six begins with a Big XII battle of undefeated's on Thursday.
Thursday October 7th 2010
#7 Nebraska Cornhuskers 4-0 (1-0) @ Kansas State Wildcats 4-0 (1-0) 7:30PM ET
KSU hosts the Huskers for their fifth consecutive home game. Daniel Thomas has carried the ball 105 times for 628 yards and 6 touchdowns for the Wildcats. Quarterback Carson Coffman has a talented receiving core to throw to. That balanced offense could pose some problems for NU. Two weeks ago the Huskers scored the least amount of points in a game so far this season beating South Dakota State 17-3. That's also the least the defense has allowed this year. Taylor Martinez turned it over three times for NU and they gave up 112 rushing yards to Kyle Minett of the Jackrabbits. With both offenses being capable of scoring it will come down to who's defense plays better. The Huskers I believe have the edge in that category. Look for sparks of a close game with Nebraska pulling away with the victory. NU 34 KSU 24. Brandon: NU 38 KSU 21
Friday October 8th 2010
#21 Oklahoma State Cowboys 4-0 (1-0) @ Louisiana-Lafayette Ragin' Cajuns 2-2 (2-1) 9PM ET
The Cowboys had the nice win over TAMU last Thursday. They have their first road trip of the season as they face the Ragin' Cajuns. OSU scores a lot of points. Brandon Weeden has been huge this year with 1259 yards and 13 TD's through the air. Expect that to continue in Lafayette. OSU 48 ULL 12.
Brandon: OSU 48 ULL 17.
Saturday October 9th 2010
#2 Ohio State Buckeyes 5-0 (1-0) vs. Indiana Hoosiers 3-1 (0-1) 12PM ET
The Hoosiers surprised me as they hung around at home but still fell 42-35 to Michigan last week. Traveling to Ohio Stadium won't exactly be an easy way to recover from the close loss. Terelle Pryor is having a great season as he leads this offense. The Buckeyes survived their first road trip of the year with the victory over Illinois. Indiana proved they can compete with the big dawgs in the Big Ten, but I'm not sure I see this one being that close. The Buckeyes are just too powerful. OSU 38 IU 21. Brandon: OSU 40 IU 21.
#19 Wisconsin Badgers 4-1 (0-1) vs. Minnesota Golden Gophers 1-4 (0-1) 12PM ET
Time of possession and MSU's great offense gave the Badgers their first loss of the year. The offense was productive and did their thing, they were just on the field thirteen minutes less and that translated to the scoreboard. Adam Weber leads the way for the Gophers offense who can have put points on the board all season. If he can get things going and keep Scott Tolzein and Jonathan Clay on the sideline this could be a competitive game. Too bad for Weber, the Gophers defense hasn't been very good as they've allowed at least 29 points a game in each of their losses. They allowed 41 to their loss to South Dakota at home. I see this one going to the Badgers comfortably. Wisconsin 48 Minnesota 27.
Brandon: Wis. 37 Minn. 18.

Johnathan Franklin leads the powerful rushing attack for
UCLA with 625 yards on 99 carries.

NON TOP-25 Game
UCLA 3-2 (1-1) @ Cal Golden Bears 2-2 (0-1) 3:30PM ET
The Bruins are on a solid run. After their 35-0 embarrassment at home to Stanford they destroyed two ranked opponents, first with 23rd Houston 31-13 then travelling to Austin beating #7 Texas 34-12. They returned home last week to beat Washington State 42-28. They'll try to continue that hot streak as they travel to Berkeley. Cal is on a two game losing streak, their last one being the thriller at Arizona. The Bears haven't lost at home this season in fact they put up 52 points in both games at home over UC Davis and Colorado. Both teams will be relying on their running game as that is their strength. Shane Vereen is the main threat out of the back field for Cal but Kevin Riley knows how to hit his receivers, mainly Marvin Jones. UCLA has used a couple quarterbacks so far but Kevin Prince has taken the majority of the snaps. He can run and throw and they still have Johnathan Franklin and Derrick Coleman in the backfield. I like this game to be close and both offenses to be successful but I think the Bruins have a few more weapons. All they have to do is stop Shane Vereen and Cal is basically shut down. UCLA will cause more problems and come away with their fourth straight victory. UCLA 36 Cal 27.
Brandon: UCLA 28 Cal 24.
#1 Alabama Crimson Tide 5-0 (2-0) @ #20 South Carolina Gamecocks 3-1 (1-1) 3:30PM ET
South Carolina has a win over a top 25 team already this year. That was Georgia who is now 1-4. That game is starting to look less impressive for Steve Spurrier. The Gamecocks fell short on the road at Auburn two weeks ago and they host the defending champs who aren't showing any signs of slowing down to defend their title. I like SC to score a touchdown or two. Three if they're lucky but this one won't be close. Nick Saban will lead his team to bowl eligibility in six weeks. The Tide is just too powerful. There are too many weapons and it will roll to 6-0. Bama 35 SC 17. Brandon: Bama 27 SC 18.
#5 TCU Horned Frogs 5-0 (1-0) vs. Wyoming Cowboys 2-3 (0-1) 3:30PM ET
TCU continues their conference play against the Cowboys. They got off to a rough start against CSU last week but still shut them out 27-0. The 'Pokes' come to Fort Worth and even though they kept Air Force in check for a close game (that they ended up losing 20-14) this one could get ugly early. The Frogs remain undefeated. TCU 44 UW 10.
Brandon: TCU 37 UW 20.
#13 Arkansas Razorbacks 3-1 (1-1) vs. Texas A&M Aggies 3-1 (0-1) 3:30PM ET (Neutral Field)
Jerrod Johnson has thrown four INT's a piece the last two games. The first one nearly saw a loss to FIU before the Aggies came back in the fourth quarter. Last week he threw four against Oklahoma State and they lost by a field goal. I can almost guarantee if he throws at least two picks and puts Ryan Mallett on the field, this game won't be close. Johnson threw the ball 62 times against OSU. Arkansas is coming off of a bye where they had time to chew on their fourth quarter melt down as Alabama came back from 21-3 to win 24-21. It's time to get down to business for the Razorbacks. TAMU could put up a fight if the offense plays a perfect game, but I give Johnson at least one pick and that will be enough to give Arkansas a comfortable victory. Arkansas 27 TAMU 14.
Brandon: TAMU 32 Ark 27.

Denard Robinson leads the way for the
Heisman running so far in 2010.
GAME OF THE WEEK
#16 Michigan State Spartans 5-0 (1-0) @ #17 Michigan Wolverines 5-0 (1-0) 3:30PM ET
When was the last time the state Michigan's two bitter rivals were both 5-0? I'm highly looking forward to this game. MSU wears their road uni's for the first time this season while Michigan is coming home from their close victory at Indiana. The Wolverines defense hasn't really been all that great. Notre Dame is legit but nearly blowing the UMass game? Really? And no one expected the Hoosiers to score 35. Having said that Denard Robinson is a stud. He's 95 rushing yards away from 1000 and he's only played five games. Kirk Cousins threw two picks last week against Wisconsin and Sparty won by double digits, although the defense allowed 178 yards combined between John Clay and James White on the ground for the Badgers. This D hasn't seen a quarterback like Robinson though and could find themselves guessing at times. He is very dangerous. Beware a shootout folks. Both teams know how to get into the endzone and the difference in this one could be which team wins the turnover ratio. Seeing MSU get the win would be great for college football (and don't be surprised if it happens) but I'm not picking it. Robinson takes the slight edge over Cousins. Is a 17 over 16 even considered an upset? Michigan 38 MSU 36. Brandon: Mich. 30 MSU 29.
#3 Oregon Ducks 5-0 (2-0) @ Washington State Cougars 1-4 (0-2) 5PM ET
After last weeks 52-31 thrashing of the Stanford I am convinced ... the Ducks will be Pac-10 Champs. I know that's a bit early to predict as we are near half way through the season but I thought for sure Stanford would pull that one off (OSU still could too, anything can happen in rivalry games right?). Now, with that prediction out of the way I still have to do it one game at a time for Oregon. LaMichael James was huge last week, why wouldn't he be against the conference's worst? Big day for the "Video Game" offense. Oregon 59 WSU 17.
Brandon: Oregon 65 WSU 17.
#11 Arizona Wildcats 4-0 (1-0) vs. Oregon State Beavers 2-2 (1-0) 6PM ET
The Beavers face their third top 10 school (in the AP Poll). They tried to play spoiler for two non-AQ powerhouses TCU and Boise State losing by more than a touchdown to both. The offense has been putting up points as expected but this Beaver defense has allowed at least 28 points a game. The Wildcats are coming off of a bye after they squeaked by Cal with a 10-9 victory. The Beavers return WR James Rodgers back from a concussion. Arizona has been proven in the close games and will be trying to prove they continue to belong among the top 15. Oregon State needs a win to save their season. They must get their rushing game going. Jacquizz Rodgers has to open things up for Ryan Katz's passing game. Arizona gave up 102 yards to Shane Vereen but kept the Cal offense out of the endzone. This game took me a very long time to pick. This one will come down to whoever makes the last big play. I want to go with Oregon State but I just don't see their defense being enough. Zona's defense will stop OSU just enough for them to gain the victory. Arizona 31 OSU 27. Brandon: Ariz. 35 OSU 23.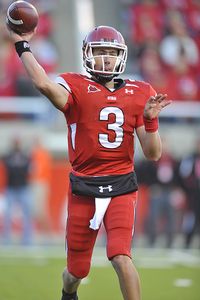 Jordan Wynn has many
weapons to give the ball
to for the tenth ranked
Utes.
#10 Utah Utes 4-0 (2-0) @ Iowa State Hawkeyes 3-2 (1-1) 7PM ET


ISU faces their second top ten team this season (likely to be three next week). They lost 35-7 at Iowa in week two. They put up 52 in their win over Texas Tech last week. They have a well balanced offense led by Senior RB Alexander Robinson. Utah faces their first challenge away from Rice Eccles Stadium (@ UNM isn't considered a challenge). Sophomore QB Jordan Wynn returned as the starter two weeks ago but Terrence Cain filled in nicely for him while he was out with an injured hand. Regardless who takes the snaps, the Utes offense is loaded with talent. The Cyclones have been playing well at home so far this season with their only home loss being to Kansas State by a touchdown. I think ISU could give Utah an upset scare here, but they won't have enough to get it done. The Utes have too much depth offensively for Iowa State to handle. I like the Utes in a semi close game. Utah 27 ISU 19. Brandon: Utah 36 ISU 24.
#22 Missouri Tigers 4-0 vs. Colorado Buffaloes 3-1 7PM ET
Colorado is coming off a two point victory over Georgia at home. That's the only game this year that's been close for them. Their only loss this season was on the road at Cal and lost 52-7. They travel to Faurot Field as they visit the 22nd ranked Tigers of Missouri. Mizzou is also having their fifth consecutive home game and they look to stay undefeated as the Buffs come to town. The only close game was San Diego State when they won 27-24. CU has had an impressive start and hope to come away with the victory, but Blaine Gabbert and the passing game will be too powerful for them. CU could make it close if they don't have any problems turning the ball over. If they do, it's a blowout. Mizzou 27 CU 13.
Brandon: Mizzou 35 CU 27.
#8 Auburn Tigers 5-0 (2-0) @ Kentucky Wildcats 3-2 (0-2) 7:30PM ET
Despite a 3-2 (0-2) record UK actually has a decent offense. Derrick Locke and Randall Cobb are the main guys for Mike Hartline's QB abilities and I like them all to have decent games as they host the Tigers. But beware Kentucky defense, Cam Newton is in town. Newton is second on ESPN's Heisman predictor and he's not really been stopped at all by anyone. He will have another field day and be the difference in a close victory. UA 34 UK 28.
Brandon: UA 37 UK 24.

Urban Meyer's Gators will
try to avoid their 2nd
consecutive SEC loss.
 #9 LSU Tigers 5-0 (3-0) @ #12 Florida Gators 4-1 (2-1) 7:30PM ET
The Gators were handed their first loss of the season as they got blown out by the Crimson Tide. They were even kept out of the endzone for the entire game. LSU nearly lost to Tennessee. The Vols nearly handed them the win when they were called for having too many men on the field during a play when time expired. That allowed Stevan Ridley to run in for the TD to seal the win. This is a solid SEC match up and the Gators will be looking to build off of their embarrassing loss to Bama. Hosting the Tigers may not be an easy way to do that. Jordan Jefferson averaged twenty yards a carry against Tennessee. This Florida defense got exposed by Bama's running game and the offense gave the ball away three times. LSU had turnover issues of their own against Tennessee, so perhaps this one will come down to which defense gets more turnovers. I see a big game for Ridley but also for Jeff Demps and I see Florida getting just a couple more opportunities to make plays. Home field advantage really does make a difference for some teams. Florida gets the upset in the swamp. FLA 26 LSU 17. Brandon: Fla. 34 LSU 21.
#25 Northwestern Wlidcats 5-0 (1-0) vs. Purdue Boilermakers 2-2 7:30PM ET
Northwestern cracks the coaches poll and begins play as a ranked school against the Boilermakers. Dan Persa has had a great season so far and I don't see why this week would serve any differently for him. Purdue hasn't really been impressive. They lost at home to Toledo by 11. This has potential to be an easy win for NW. Having said that, I think Purdue will do their best to stay competitive in a losing effort. NW 31 Purdue 17.
Brandon: NW 30 Purdue 23.
#4 Boise State Broncos 4-0 (1-0) vs. Toledo Rockets 3-2 (2-0) 8PM ET
And so it begins. The Broncos got jumped in the polls by Oregon. And so it may continue. Even though the Nevada match up is looking better for BSU's schedule, the likes of Toledo and the rest of the WAC will probably not be enough for them to reach their ultimate goal of playing for the BCS title. This week however they will be doing what they do, trying to convince the voters, haters etc... what have you. Toledo has a victory over Purdue that looks good on their resume. On the road even. Boise > Purdue. Sorry Rockets. BSU 44 Toledo 17.
Brandon: BSU 48 Toledo 20.
#24 Florida State Seminoles 4-1 (2-0) @ #14 Miami (FL) Hurricanes 3-1 (1-0) 8PM ET
The 'Canes come back home after three straight road games and they face their second ranked opponent of the season. Since their 47-17 embarrassment in Norman, Christian Ponder and the Seminoles have outscored their last three opponents 99-24. Granted the combined record of those opponents is 5-10 and we wont include the record of D-I AA Samford. Traveling to Coral Gables won't be a walk. I see them being a bit more competitive here than they were against Oklahoma, but I don't see them having much of an answer for Jacory Harris. No blowout here, but a comfortable win for the Hurricanes. The U 28 FSU 17.
Brandon: FSU 36 Miami 33.

USC, led by Matt Barkley is off to
a great start after a dramatic off
season.
#18 Stanford Cardinal 4-1 (1-1) vs. USC Trojans 4-1 (1-1) 8PM ET
Stanford was looking great by halftime in Autzen Stadium with a 31-24 lead. Then they didn't seem to come out of the locker room and didn't score again losing 52-31. USC had a one point loss at home to Jake Locker and the Washington Huskies. Both teams will want to build from those losses. Folks, prepare for another shootout. Matt Barkley is a stud and Allen Bradford his running the ball very well this season excluding the Virginia game. He had 223 yards against the Huskies. Both teams look pretty even and I like Andrew Luck to have a big game but I don't really see much of a running game for the Cardinal and that will be the difference. USC's running game on top of a solid game through the air for Barkley will serve as the victor for the Trojans. Luck gets loss number two in a row. USC 27 Stanford 21.
Brandon: Stanford 30 USC 24.
#23 Nevada Wolfpack 5-0 (3-0) vs. San Jose State Spartans 1-4 (0-3) 10:35PM ET
Nevada just beat their third MWC opponent of the season with their 44-26 victory over in state rival UNLV. Looks like they may fit in well with that conference in 2012. This week they start WAC play at home against San Jose State on ESPNU. The Spartans just lost by a point to UC Davis (potentially a WAC filler). This is their fourth ranked opponent they face and it will be five next week when they host Boise State. Their only win was a 16-11 victory at home to Southern Utah. The Spartans are just flat out terrible. Big day for Colin Kaepernick and co. UNR 43 SJSU 6.
Brandon: UNR 50 SJSU 21.