This time last year the Los Angeles Lakers were waltzing their way into the NBA Finals with ease. The only hang up was a first round seven game series with the Oklahoma City Thunder. Ten games later they were awaiting their opponent. They'd eventually win their second straight title, squeaking past the Boston Celtics in seven games.
They were notoriously favored to be the NBA champs this season. Kobe'd get his long awaited and coveted sixth ring. Phil Jackson would boast his fourth three-peat. Nobody, and I mean NOBODY, was picking anyone else. The folks in Dallas didn't care.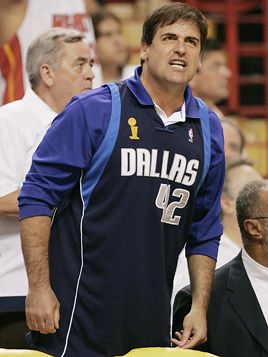 Mark Cuban would love nothing more for his
Mavericks to win an NBA title.

Last night Jason Terry, JJ Barea and Peja Stoyakavic were firing on all cylinders. So were some of the Lakers ... but not in a basketball sense. Ones true colors comes out when facing adversity. As much as anyone wants to hate on Kobe Bryant, he showed much class last night. Andrew Bynum and Lamar Odom were ejected after serving cheap shots to Dirk Nowitzki and Barea. Bynum's was disgusting to watch. No champion will be throwing blows like that. The Lakers were swept in a playoff series for the first time since the Spurs did it in 1999.

Dallas finds itself back in the Western Conference finals for the first time since 2006. They've looked very impressive thus far in the playoffs. They seem to have weapons at every position and can get check marks in every spot in the box score. They're well balanced and rounded with ridiculous three-point shooting. Oh yeah and their starting small forward, Caron Butler, has been out with an injury since January. Guys like Stoyakavic, Terry and Barea have created fantastic insurance for Jason Kidd and Mr. Nowitzki. Tyson Chandler has been exceptional on defense and everyone is aware of what Shawn Marion can do. Though he used to be all-star caliber in Phoenix and early with Dallas, he's done very well accepting his role player job now.
Props to Mark Cuban and co. at structuring such a squad to put on that floor. Not many franchsies can do it. It's not easy. A lot of people like to hate on Cuban for his exceptionally odd behavior, but I respect the guy. If I was an owner of an NBA team, I'd do just what he does. Be a season ticket holder, yell at the referees in disagreeance etc ... I'd be fully invested much like he is. He's done so many good things for this franchise and now they look to make another appearance in the NBA Finals.

Dirk Nowitzki could be adding to his collection. The 2007
NBA MVP is looking for more hardware to collect.
In 2006 they were up two games on the Miami Heat. They ended up losing four straight and Dwyane Wade had his first Championship while Shaquille O'Neal had his fourth. Boy how sweet would a rematch with Miami be? Especially if LeBron got there and lost ... AGAIN. Both teams have to get through their own conferences first. Right now the Mavericks are the favorites to win the West. But if eighth seeded Memphis knocks out the Thunder, they'd have all the confidence in the world to reach the NBA Finals. So watch out.
But for now, Dirk has one thing in his sights as they prepare for their next opponent, and I'm sure the rest of the veteran-laden squad does as well. Jason Kidd has been there before with New Jersey ... yet unsuccesful. Stoyakavic has made runs in the playoffs as well back when Sacramento put a good team on their court. Look for Dallas to be hungry. 2011 may be the year of the Maverick. For a franchise who has taken a lot of heat (no pun intended) for being choke artists in the playoffs, an NBA title this year may shut everyone up. Especially after the way they dismantled the Lakers.
We will know in a matter of weeks.